Business development
¿Qué es eso del desarrollo de negocio?
19 de Diciembre de 2011 El otro día se acercó un abogado y me preguntó, pero… ¿qué es eso del desarrollo de negocio y para qué sirve? Estamos hablando tanto de estrategia, de desarrollo de negocio y de marketing, que muchos abogados a los que cargamos de deberes, cuando llegan a su realidad y a su despacho, no saben por dónde empezar. Eugenia Navarro, Profesora de marketing jurídico de la Facultad de derecho de ESADE y consultora de estrategia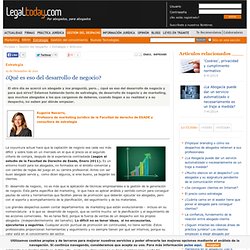 Por invitado el 5 Mayo 2010 Artículo escrito por Tomy Lorsch , cofundador de Findasense New business developement muchas veces se confunde con la función del comercial.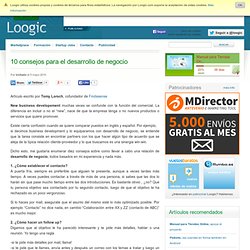 10 consejos para el desarrollo de negocio Loogic
A Guide to Business Development 2.0
At least once each day I get a call from someone trying to sell me outsourced development services. It's difficult to not be frustrated with these calls and it is increasingly hard to be polite, because they come so frequently. Yet, more than frustrated, I am just puzzled.
So you want to be a business development professional? The job title has certainly become a coveted one of late, especially in the tech sector where the business guys and gals are the ones forging newsworthy partnerships. The question is, do you know what the job entails?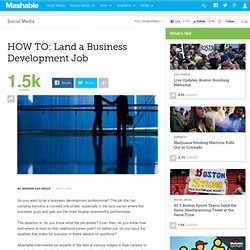 HOW TO: Land a Business Development Job
A subset of the fields of business and commerce , business development comprises a number of tasks and processes generally aiming at developing and implementing growth opportunities. [ edit ] History The term business development and its actor, the business developer , have evolved into many usages and applications.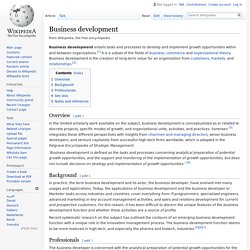 Business development
WetFeet
Overview Business development is a combination of strategic analysis, marketing, and sales. Business development (or "biz dev") professionals can be involved in everything from the development of their employers' products and services, to the creation of marketing strategies, to the generation of sales leads, to negotiating and closing deals.
Business Development