Weird shit
Spiders On Drugs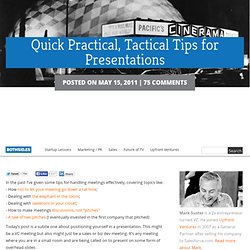 In the past I've given some tips for handling meetings effectively, covering topics like: - How not to let your meeting go down a rat hole; - Dealing with the elephant in the room; - Dealing with skeletons in your closet; - How to make meetings discussions, not "pitches" - A tale of two pitches (I eventually invested in the first company that pitched) Today's post is a subtle one about positioning yourself in a presentation. This might be a VC meeting but also might just be a sales or biz dev meeting. It's any meeting where you are in a small room and are being called on to present on some form of overhead slides 1.
The Cacophony Society
Please join Tales of the San Francisco Cacophony Society co-authors Carrie Galbraith and John Law in conversation with Fight Club author Chuck Palahniuk moderated by Business Week (!) Executive Editor Brad Wieners. Monday the 23rd of September, doors 7PM Castro Theater, Market at Castro Streets, San Francisco Robert Hubbard, Jerry James, Rich Perry, & John Law: typical Cacophony event, 1990. photo courtesy Robert Hubbard Chuck Palahniuk's pivotal novel Fight Club was partially inspired by Cacophony, which served as a model for the novels dangerous prankster cabal Project Mayhem. Ask Chuck what the heck he was thinking!