Torrents
Lynda. We're terribly sorry, but page you're looking for is missing.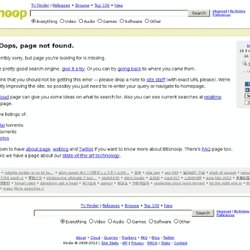 We have pretty good search engine, give it a try . Or you can try going back to where you came from. If you think that you should not be getting this error — please drop a note to site staff (with exact URL please). We're constantly improving the site, so possibly you just need to re-enter your query or navigate to homepage. Query cloud page can give you some ideas on what to search for. Torrent Crazy. Bt Junkie. Iso Hunt. Pirate Bay.
Torrent Search Engine. IPTorrents.
---