Robert Hirsch - oil end
Like other reviewers, I commend Hirsch for his 2005 report, but this book is self conflicted and self contradictory. I am always suspicious of any book dealing with energy when two of its authors are economists. To give but a few examples of the problems this book has, almost every chapter ends with "more research is needed." No kidding. But what is most egregious are the blatant contradictions: we are informed early on that the R/P type analysis is a trap (this is where you divide the presumed known reserves of a resource by the CURRENT rate of use [meaning ZERO growth in this rate, despite rising demand] and come up with a number of some years the resource will last given the caveat of zero demand growth.
The Impending World Energy Mess: What It Is and What It Means to You!: Amazon.fr: Robert L. Hirsch, Dr Roger H. Bezdek, Robert M. Wendling: Livres anglais et étrangers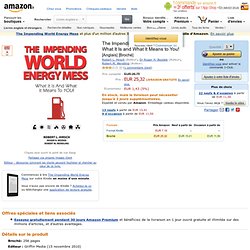 Hirsch report
The Hirsch report, the commonly referred to name for the report Peaking of World Oil Production: Impacts, Mitigation, and Risk Management, was created by request for the US Department of Energy and published in February 2005.[1] Some information was updated in 2007.[2] It examined the time frame for the occurrence of peak oil, the necessary mitigating actions, and the likely impacts based on the timeliness of those actions. Introduction[edit] "The peaking of world oil production presents the U.S. and the world with an unprecedented risk management problem. As peaking is approached, liquid fuel prices and price volatility will increase dramatically, and, without timely mitigation, the economic, social, and political costs will be unprecedented. Viable mitigation options exist on both the supply and demand sides, but to have substantial impact, they must be initiated more than a decade in advance of peaking."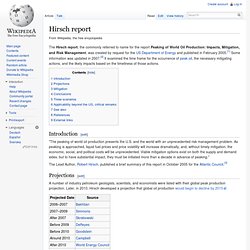 Peak Oil : « Une conspiration du silence » à Washington, selon Robert Hirsch
Entretien avec Robert L. Hirsch (2/2) [Entretien avec Robert L. Hirsch (1/2)]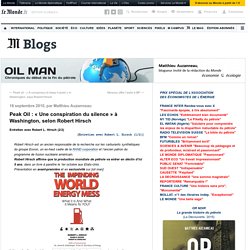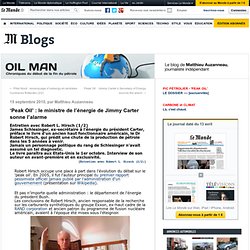 Entretien avec Robert L. Hirsch (1/2) James Schlesinger, ex-secrétaire à l'énergie du président Carter, préface le livre d'un ancien haut fonctionnaire américain, le Dr Robert Hirsch, qui prédit une chute de la production de pétrole dans les 5 années à venir. Jamais un personnage politique du rang de Schlesinger n'avait assumé un tel diagnostic. Le livre paraîtra aux Etats-Unis le 1er octobre. Interview de son auteur en avant-première et en exclusivité.
'Peak Oil' : le ministre de l'énergie de Jimmy Carter sonne l'alarme
www.netl.doe.gov/energy-analyses/pubs/Oil_Peaking_NETL.pdf