ASPO - oil
Scenarios for peak oil - 2011.pdf. ASPO France - Documents téléchargeables. Page principale - S'identifier Documents téléchargeables Documents de J.
Laherrère, P. -R. ASPO International | The Association for the Study of Peak Oil and Gas. Il n'y a pas d'autre solution que d'apprendre à vivre avec moins de pétrole. A l'occasion de la neuvième conférence mondiale de l'Association d'étude des pics de production de pétrole et de gaz naturel, à Bruxelles, Actu-Environnement a demandé au président de l'ASPO, Kjell Aleklett, une mise au point sur l'évolution des ressources de brut à moyen terme.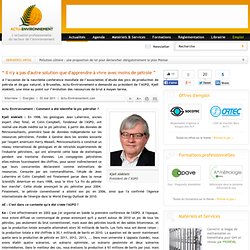 Kjell AleklettPrésident de l'ASPO Actu Environnement : Comment a été identifié le pic pétrolier ? Conférence internationale de l'ASPO : les défis de la fin du pétrole bon marché. Depuis sa création, l'Association d'étude du pic pétrolier et gazier anticipe les turbulences économiques causées par le renchérissement des ressources fossiles.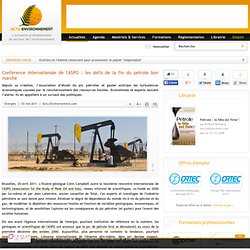 Economistes et experts lancent l'alerte. Ils en appellent à un sursaut des politiques. Bruxelles, 26 avril 2011. L'illustre géologue Colin Campbell ouvre la neuvième rencontre internationale de l'ASPO (Association for the Study of Peak Oil and Gas), réseau informel de scientifiques, co-fondé en 2000 par lui-même et par Jean Laherrère, ancien conseiller de Total.
---