Télécharger du son
Free Sound Effects. PacDV has been producing royalty free sounds for filmmakers, sound designers, music producers, film students, and multimedia developers since 2001, and our sounds have been featured in a variety of independent films and videos, television programs, documentaries, commercials, games, radio shows, and new media projects.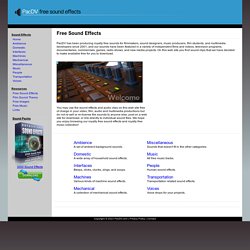 On this web site you find sound clips that we have decided to make available free for you to download. You may use the sound effects and audio clips on this web site free of charge in your video, film, audio and multimedia productions but do not re-sell or re-license the sounds to anyone else, post on a web site for download, or link directly to individual sound files. We hope you enjoy browsing our royalty free sound effects and royalty free music collection!
Ambience A set of ambient background sounds. Freesound.org. Banque de sons TICTAC. Opsound. Freeplay Music, Broadcast Production Music Library, Free and Mp3 Music Downloads, See Usage Terms. Télécharger de la musique gratuite en mp3. Cette section permet de télécharger de la musique Creative Commons et Art Libre au format mp3.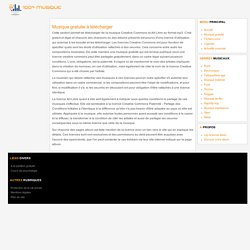 C'est gratuit et légal et chacune des chansons ou des albums présents est pourvu d'une licence d'utilisation qui autorise à les écouter et les télécharger. Les licences Creative Commons ont pour fonction de spécifier quels sont les droits d'utilisation rattachés à des oeuvres. Cela concerne entre autre les compositions musicales. Notre bibliothèque de livres audio gratuits. Sound Types in French. Quels types de sons pouvez-vous trouver sur le Web grâce à FindSounds?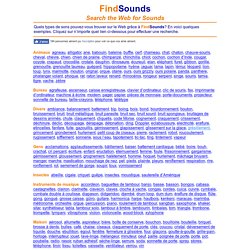 En voici quelques exemples. Cliquez sur n'importe quel lien ci-dessous pour effectuer une recherche. Familles de bruitages. 7169 bruitages et musiques d'illustration à télécharger Toutes les catégories de bruitages animaux animaux » Tous les bruitages d'animaux et cris du règne animal : bruitages d'animaux domestiques (chat, chien, hamster), des bruitages d'animaux sauvages (serpent, grenouilles, singes, éléphant, loup...) et d'animaux de la ferme (cheval, vache, mouton, poule, coq...).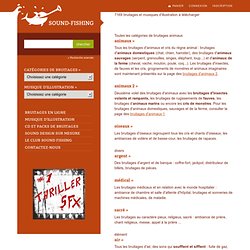 Les bruitages d'insectes, de fauves et les cris, grognements de monstres et animaux imaginaires sont maintenant présentés sur la page des bruitages d'animaux 2. :: soundtransit :: search. News After a 10 month hiatus, the Soundtransit project is back thanks to the generous hosting support of Turbulence.org.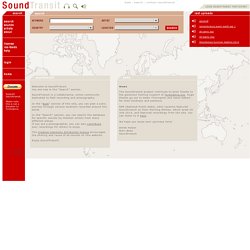 Huge thanks go out to Helen Thorington and Jesse Gilbert for their kindness and patience. We still need your help raising EUR 800 to pay our previous hosting costs, however! If you have found our collection of over 2000 recordings from 471 artists around the world interesting, and especially if you have used sounds from the project in your own work, please consider clicking the DONATE button on the left side of the page. Sons combats et bagarres 5. Audiomaniac |  Les sons gratuits.
Audiomaniac on Soundcloud !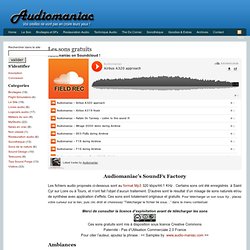 Audiomaniac's SoundFx Factory Les fichiers audio proposés ci-dessous sont au format Mp3 320 kbps/44.1 KHz . Certains sons ont été enregistrés à Saint Cyr sur Loire ou à Tours, et n'ont fait l'objet d'aucun traitement. D'autres sont le résultat d'un mixage de sons naturels et/ou de synthèse avec application d'effets. Ces sons sont totalement originaux et gratuits. Kids Make Music Online.
---