Epikamenra
Ramel Robinson
I'm a graduate in multiple fields of technology focusing on Film/video & Computer Science. My ultimate goal is the further study and mastery of Holographic technology expanding the level of visual entertainment. I Like to party occasionally, but i'm more career focused other than on my Xbox or going out with my girl I don't like to waste time on endeavors not related to my field of study.
The TWiT Netcast Network with Leo Laporte. Anime from FUNimation Entertainment. Raychul.com.
Amenra777 a Life of Tech
Video Game Trailers for Wii, PSP, Xbox, PS3 & More | Upcoming Video Games. Machinima.com | Gameplay Videos, Game Trailers, Gaming News and Original Shows. Destructoid.com - For Gamers. By Gamers. * Video Games, Game Reviews & News. Video Games, Cheats, Walkthroughs, Game Trailers, Reviews, News, Previews & Videos at IGN. GameSpot is your go-to source for video game news, reviews, and entertainment. EPIK AMENRA. I'm a hardcore gamer have been since 1985.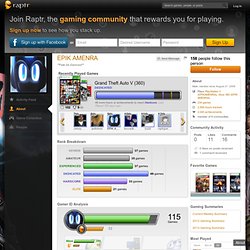 You can find me almost anywhere online on something dealing with video games. drop me a line amenrah999@gmail.com More about me : I'm currently a student At WestWood college studying game design and when i'm not doing that or blogging i'm gaming. my gamertag is EPIK AMENRA hit me up if you want to game. I don't accept casual gamers or gaming noobs on my list anymore I only want REAL HARDCORE GAMERS.
---