Tools
Welcome to Hackpad: Quick Intro The Hackpad team has shared this pad with you; say hi if you like! Julia fro Only people with the link can see the pad Send the link over email or chat, or use the invite box on the right.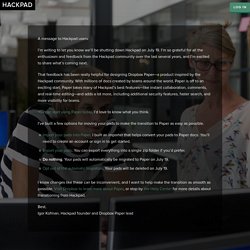 Net and Danube--A Powerful Combination for Agile ALM
Writing software isn't half as hard as all the talking, emails, and meetings needed to reconcile shifting requirements and slipping deadlines. We get it, we've been there. In fact, we're still there. We're Pivotal Labs, a web and mobile development consultancy.