Tools
Free for personal use. Private workspaces $2 per user. Create and Organize Take collaborative notes, share data and files, and use comments to share your thoughts in real-time or asynchronously. Every contribution is marked with the author's name, so your breakthrough idea won't get left behind.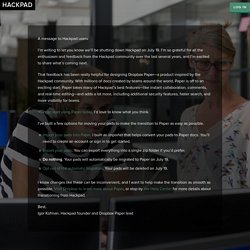 Net and Danube--A Powerful Combination for Agile ALM
Writing software isn't half as hard as all the talking, emails, and meetings needed to reconcile shifting requirements and slipping deadlines. We get it, we've been there. In fact, we're still there. We're Pivotal Labs, a web and mobile development consultancy.