Social Interaction Design
What Is Social Interaction Design? SxD_Principles-AdrianChan-2012.pdf. I just killed a social game mechanic. Techcrunch this week posted a copy of a social gaming playdeck used by SCVNGR.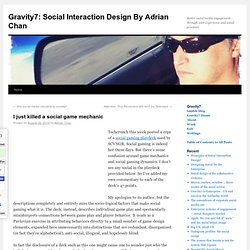 Social gaming is indeed hot these days. But there's some confusion around game mechanics and social gaming dynamics. Eleven tips on how to apply social interaction design thinking. One of the key social interaction design deliverables is the social interaction design requirements document.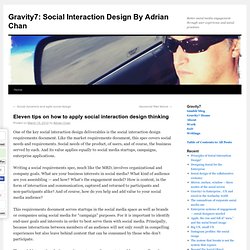 Like the market requirements document, this spec covers social needs and requirements. Social needs of the product, of users, and of course, the business served by each. And its value applies equally to social media startups, campaigns, enterprise applications. The Theory Behind Social Interaction Design. I view social interaction design as a field that seeks user-centric descriptions of experiences and behaviors on social media, with an eye on emergent social practices.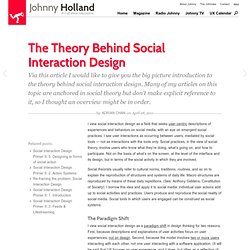 I see user interactions as occurring between users, mediated by social tools — not as interactions with the tools only. Social practices, in the view of social theory, involve users who know what they're doing, what's going on, and how to participate. Not on the basis of what's on the screen, at the level of the interface and its design, but in terms of the social activity in which they are involved.
---