Graphic Design
Art and design. The Ultimate Collection Of Useful Photoshop Actions - Smashing Magazine. Advertisement Saving repetitive tasks as Photoshop actions can save you a lot of time, allowing you to automate your work and improve workflow efficiency.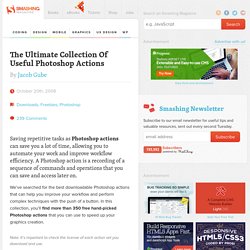 A Photoshop action is a recording of a sequence of commands and operations that you can save and access later on. We've searched for the best downloadable Photoshop actions that can help you improve your workflow and perform complex techniques with the push of a button. In this collection, you'll find more than 350 free hand-picked Photoshop actions that you can use to speed up your graphics creation. Note: It's important to check the license of each action set you download and use. Blog.SpoonGraphics. 20 Superb Adobe Illustrator Tutorials. 50 Fresh Free Fonts of 2010. Though there's a broad variety of fonts available for download online, designers keep on tracing the fresh ones to enhance their design copy, a website, brochure, or even an advertisement in a brand new an' awesome way.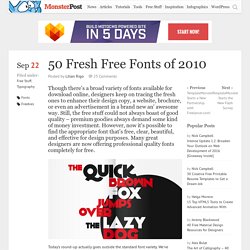 Still, the free stuff could not always boast of good quality – premium goodies always demand some kind of money investment. However, now it's possible to find the appropriate font that's free, clear, beautiful, and effective for design purposes. Many great designers are now offering professional quality fonts completely for free. Today's round-up actually goes outside the standard font variety. Learn the Basics of Photoshop: The Complete Guide. VectorStock® | Royalty Free Vector Graphics & Clipart | VectorStock®.com. 30 Poster Design Tutorials for Photoshop.
Photoshop allows designers to create amazing posters that can be used for a variety or purposes like movie promos, product promos, event promos, as well as just for fun and practice.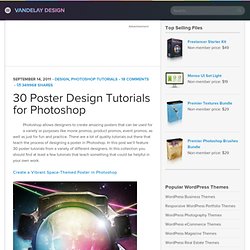 There are a lot of quality tutorials out there that teach the process of designing a poster in Photoshop. In this post we'll feature 30 poster tutorials from a variety of different designers. CREATIU | Cool Sites, Cool Videos, Design Schools, Trends. 10 Wonderful Letterpress Type Tutorials. The letterpress type treatment (or as I call it, inset text treatment) can be easily done in Photoshop.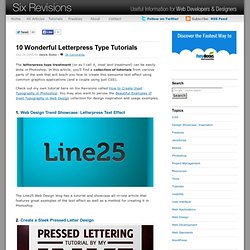 In this article, you'll find a collection of tutorials from various parts of the web that will teach you how to create this awesome text effect using common graphics applications (and a couple using just CSS). Check out my own tutorial here on Six Revisions called How to Create Inset Typography in Photoshop. Plastic Cards | Plastic Business Cards | Plastic Printing | Clear Plastic Cards. Free textures, texture tutorials and texture inspiration collections from the web | Texture Lovers. Vectorish. #e13ea4 on 0to255.
Photoshop Index. Designers Go To Heaven: Archive. Illustrator. 45 Epic Blender Tutorials. Ben has over a decade of experience in the computer graphics field and although he's primarily a hard surface modeler, he's also experienced in the fields of UVMapping, Texturing, Lighting and Rendering.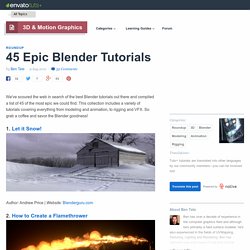 Ben currently co-edits Cgtuts+ along with his brother Chris, and has authored over sixty hours of real-time tutorial content for the site, focusing mainly on 3d Studio Max and hard surface modeling. Along side 3D Studio Max, Ben's has experience with VRay, FumeFX, ZBrush, Mudbox, Mari, PTex, Photoshop, xNormal, UVLayout, Forest Pack Pro and After Effects. You can check out Ben's website to see more of his work. Visual Bits. Yet Another Colorization Tutorial. ISO50 Blog – The Blog of Scott Hansen (Tycho / ISO50) » The blog of Scott Hansen (aka ISO50 / Tycho) Design Blog | Inspiration and Resources for Designers | Design Shard. Freedom one day at a time.
---