Tech
Autonomous agent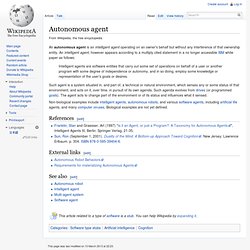 An autonomous agent is an intelligent agent operating on an owner's behalf but without any interference of that ownership entity. An intelligent agent, however appears according to a multiply cited statement in a no longer accessible IBM white paper as follows: Intelligent agents are software entities that carry out some set of operations on behalf of a user or another program with some degree of independence or autonomy, and in so doing, employ some knowledge or representation of the user's goals or desires. Non-biological examples include intelligent agents, autonomous robots, and various software agents, including artificial life agents, and many computer viruses.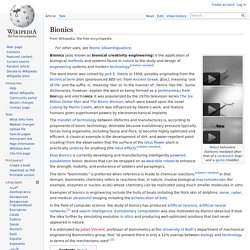 Bionics
Bionics (also known as bionical creativity engineering) is the application of biological methods and systems found in nature to the study and design of engineering systems and modern technology.[citation needed] The transfer of technology between lifeforms and manufactures is, according to proponents of bionic technology, desirable because evolutionary pressure typically forces living organisms, including fauna and flora, to become highly optimized and efficient.
Evolvable hardware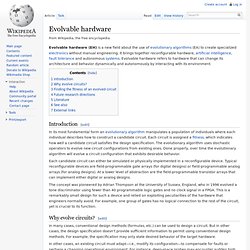 Evolvable hardware (EH) is a new field about the use of evolutionary algorithms (EA) to create specialized electronics without manual engineering. It brings together reconfigurable hardware, artificial intelligence, fault tolerance and autonomous systems. Evolvable hardware refers to hardware that can change its architecture and behavior dynamically and autonomously by interacting with its environment.
These days you can find all sorts of things online, from audio books to flash files, from sound effects to CSS templates. Below we compiled a list with over 100 download sites that serve that purpose. We will also try to keep the list updated, so if your favorite download site is not here, let us know about it with a comment. Audio Books Librivox: One of the most popular audio libraries on the web. Autonomic Computing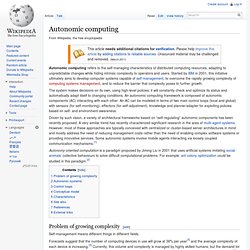 Autonomic computing refers to the self-managing characteristics of distributed computing resources, adapting to unpredictable changes while hiding intrinsic complexity to operators and users. Started by IBM in 2001, this initiative ultimately aims to develop computer systems capable of self-management, to overcome the rapidly growing complexity of computing systems management, and to reduce the barrier that complexity poses to further growth. The system makes decisions on its own, using high-level policies; it will constantly check and optimize its status and automatically adapt itself to changing conditions. An autonomic computing framework is composed of autonomic components (AC) interacting with each other.
The technological singularity, or simply the singularity, is a hypothetical moment in time when artificial intelligence will have progressed to the point of a greater-than-human intelligence, radically changing civilization, and perhaps human nature.[1] Since the capabilities of such an intelligence may be difficult for a human to comprehend, the technological singularity is often seen as an occurrence (akin to a gravitational singularity) beyond which the future course of human history is unpredictable or even unfathomable. The first use of the term "singularity" in this context was by mathematician John von Neumann.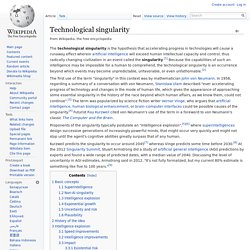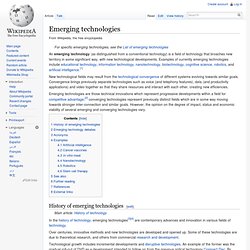 In the history of technology, emerging technologies[1][2] are contemporary advances and innovation in various fields of technology. Various converging technologies have emerged in the technological convergence of different systems evolving towards similar goals. Convergence can refer to previously separate technologies such as voice (and telephony features), data (and productivity applications) and video that now share resources and interact with each other, creating new efficiencies. Emerging technologies are those technical innovations which represent progressive developments within a field for competitive advantage;[5] converging technologies represent previously distinct fields which are in some way moving towards stronger inter-connection and similar goals.