New Paltz
Tommy C's Deli, New Paltz, NY : Reviews and maps - Yahoo
Welcome to Rock and Rye Tavern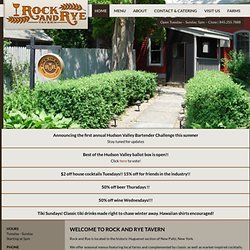 Tiki Sundays! Classic tiki drinks made right to chase winter away. Hawaiian shirts encouraged! Rock and Rye is located in the historic Huguenot section of New Paltz, New York. We offer seasonal menus featuring local farms and complemented by classic as well as market-inspired cocktails, great wine, and craft beers all in a beautiful, historic setting. Eat local and drink local, whenever possible.
Red Rooster Cafe (Gardiner/New Paltz NY) - General Tristate Archive
Found this tucked-away breakfast/lunch spot on Rte 44/55 in "downtown" Gardiner a couple of months ago and have been staking it out ever since. Fantastic luncheonette-style food with Southwestern influences. Recommended: egg dishes, especially those served with a "red rooster cake" a creamy/crispy potato pancake; the smoky, spicy bean soups and beef chili (topped with fresh pico de gallo and melted jack cheese); also, the wonderful Cobb and Hudson Valley-style salads. But the signature dish here is the basket of fresh-cut french fries, an irresistable accompaniment to the burgers (sized 6, 8, 10 oz) and the sandwiches. Good quality ingredients across the board. Keegan Ale served.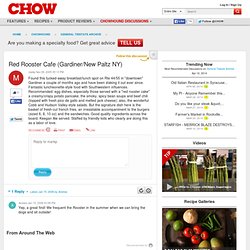 NEW PALTZ INDIAN RESTAURANT
Welcome to The Mudd Puddle!
Mountain Brauhaus Restaurant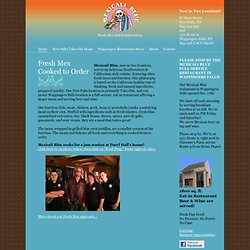 Fresh Mex Cooked to Order Mexicali Blue, now in two locations, serves up delicious Southwestern & Californian style cuisine, featuring ultra fresh tacos and burritos. Our philosophy is based on the California healthy way of thinking, fresh and natural ingredients, prepared quickly. Our New Paltz location is primarily Take-Out, and our newer Wappingers Falls location is a full-service, eat-in restaurant offering a larger menu and serving beer and wine.
Mexicali Blue - Fresh Mexican and Southwestern Food in New Paltz, NY
The College Diner
business 2-03 The Cheese Plate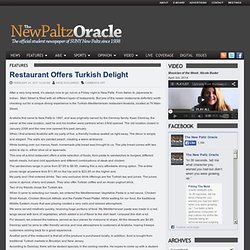 Restaurant Offers Turkish Delight
After a very long week, it's always nice to go out on a Friday night in New Paltz. From Italian to Japanese to Indian, Main Street is filled with all different types of restaurants. But one of the newer restaurants definitely worth checking out for a unique dining experience is the Turkish-Mediterranean restaurant Anatolia, located at 76 Main Street. Anatolia first came to New Paltz in 1997, and was originally owned by the Demiray family.
Upstairs on 9 Cafe
Located at the beautiful New Paltz Golf Course..offering fresh, delicious food at reasonable prices with incredible views of the Shawangunk Mountains. Eat indoors in our newly refinished dining room/pub, or outdoors overlooking the 9th green. Not a golfer?? We are open to the public, and offer one of the ONLY places in New Paltz to sit outside, have a drink, and enjoy the view! Try our "soon to be famous" PRETZEL SANDWICH or APPLE PIE WON TONS
The Rosendale Cafe is excited about their continuing series of Latin dance events on most Thursday nights, each starting with an all-levels lesson from 7:30pm to 8:30pm, and dancing until 10:30pm. Dance forms may include Salsa, Mambo, Merengue, Cha Cha, and Bachata. The instructor is Argentinean Maia Martinez, director of Dojo Dance Company in Newburgh, NY. Maia has a unique and energetic dancing and teaching style that involves the diversity of disciplines she has been exploring since she was a kid. Maia's lessons present amazing tips to improve your leading and following skills, and developing your own dancing style through exploring the musicality of Salsa music.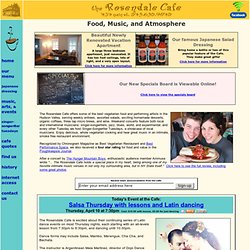 The Rosendale Cafe, Mid Hudson Valley, Upstate NY
Home
Harvest Cafe - Restaurant, Wine Bar and Catering, located in New Paltz, New York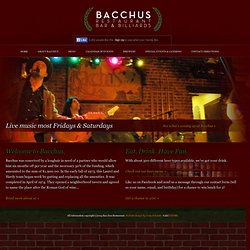 Bacchus Restaurant & Bar | Great Food & Drinks in New Paltz, NY
Bacchus was conceived by a longhair in need of a partner who would allow him six months off per year and the necessary 50% of the funding, which amounted to the sum of $1,900.00. In the early fall of 1973, this Laurel and Hardy team began work by gutting and replacing all the amenities. It was completed in April of 1974. They opened a neighborhood tavern and agreed to name the place after the Roman God of wine... Read more about us »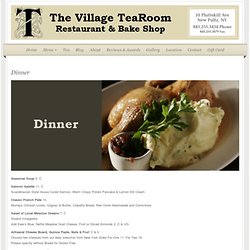 Dinner Seasonal Soup 5. Ċ
Dinner : The Village Tearoom
The Gilded Otter - Best Brewpub in the Hudson Valley