New Paltz
Tommy C's Deli, New Paltz, NY : Reviews and maps - Yahoo
Welcome to Rock and Rye Tavern
Red Rooster Cafe (Gardiner/New Paltz NY) - General Tristate Archive
Found this tucked-away breakfast/lunch spot on Rte 44/55 in "downtown" Gardiner a couple of months ago and have been staking it out ever since. Fantastic luncheonette-style food with Southwestern influences. Recommended: egg dishes, especially those served with a "red rooster cake" a creamy/crispy potato pancake; the smoky, spicy bean soups and beef chili (topped with fresh pico de gallo and melted jack cheese); also, the wonderful Cobb and Hudson Valley-style salads. But the signature dish here is the basket of fresh-cut french fries, an irresistable accompaniment to the burgers (sized 6, 8, 10 oz) and the sandwiches. Good quality ingredients across the board. Keegan Ale served.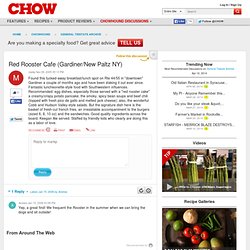 NEW PALTZ INDIAN RESTAURANT
Welcome to The Mudd Puddle!
Mountain Brauhaus Restaurant
Moonlight Cafe - New Paltz area - New Paltz, NY 12561 | Metromix Hudson Valley
Mexicali Blue - Fresh Mexican and Southwestern Food in New Paltz, NY
The College Diner
business 2-03 The Cheese Plate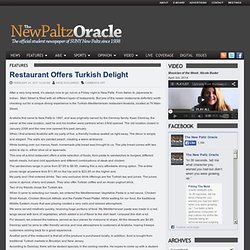 Restaurant Offers Turkish Delight
After a very long week, it's always nice to go out on a Friday night in New Paltz. From Italian to Japanese to Indian, Main Street is filled with all different types of restaurants. But one of the newer restaurants definitely worth checking out for a unique dining experience is the Turkish-Mediterranean restaurant Anatolia, located at 76 Main Street. Anatolia first came to New Paltz in 1997, and was originally owned by the Demiray family.
Upstairs on 9 Cafe
The Rosendale Cafe, Mid Hudson Valley, Upstate NY
Organic Local Vegetarian Food, New Paltz, NY - Karma Road Restaurant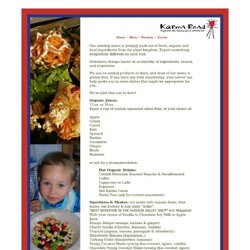 Our rotating menu is lovingly built out of fresh, organic and local ingredients from the plant kingdom. Expect something delightfully different on each visit. Selections change based on availability of ingredients, season, and inspiration. We use no animal products or dairy, and most of our menu is gluten-free.
Home
Harvest Cafe - Restaurant, Wine Bar and Catering, located in New Paltz, New York
Bacchus Restaurant & Bar | Great Food & Drinks in New Paltz, NY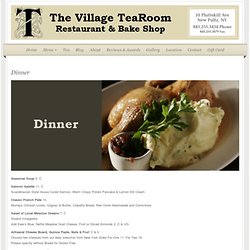 Dinner Seasonal Soup 5. Ċ
Dinner : The Village Tearoom
The Gilded Otter - Best Brewpub in the Hudson Valley