Politics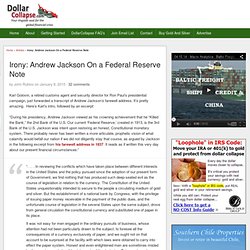 Karl Golovin, a retired customs agent and security director for Ron Paul's presidential campaign, just forwarded a transcript of Andrew Jackson's farewell address.
Irony: Andrew Jackson On a Federal Reserve Note
Allen West: Progressives Made Black Americans Poor
In her keynote speech at last year's annual Netroots Nation gathering, Darcy Burner pitched a seemingly simple idea to the thousands of bloggers and web developers in the audience.
New App Buycott Lets Users Protest Koch Brothers, Monsanto And More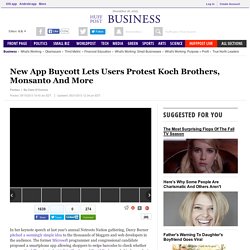 8 Reasons Young Americans Don't Fight Back: How the US Crushed Youth Resistance - Disquieting Truths
Arizona Republicans Propose Bill That Would Not Allow Atheists To Graduate High School
Posted by Alcyone _Featured_ , Controlled Media Tuesday, January 8th, 2013 Update 1/12/2013: CLN has received a takedown notice asking us to remove this article on the basis that "It is libelous and utterly false" from someone claiming to be a legal agent of Above Top Secret's parent company. We are currently investigating and will post status updates as they become available.
I Was a Paid Internet Shill: How Shadowy Groups Manipulate Internet Opinion and Debate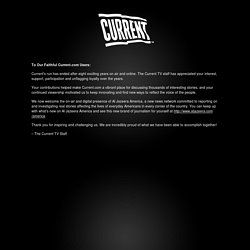 From the show: Obama raises pressure on Congress to pass new gun control laws Get information on all of tonight's guests. read post by The Young Turks Staff From the show: #SCOTUS takes on DOMA Get information on all of tonight's guests. read post by The Young Turks Staff From the show: North Dakota enacts the nation's strictest abortion law Get information on all of tonight's guests. read post by The Young Turks Staff
The Young Turks with Cenk Uygur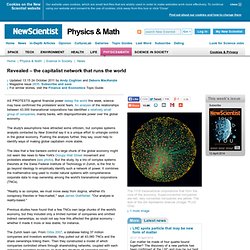 AS PROTESTS against financial power sweep the world this week, science may have confirmed the protesters' worst fears. An analysis of the relationships between 43,000 transnational corporations has identified a relatively small group of companies , mainly banks, with disproportionate power over the global economy. The study's assumptions have attracted some criticism, but complex systems analysts contacted by New Scientist say it is a unique effort to untangle control in the global economy. Pushing the analysis further, they say, could help to identify ways of making global capitalism more stable.
A few months ago Nassim Taleb, author of the Black Swan , an influential book about the crucial importance of unpredictable, unforeseen events on our financial system was asked whether the hundreds of thousands taking to the streets in Greece was a Black Swan event. He replied , "No. The real Black Swan event is that people are not rioting against the banks in London and New York." They are now. Not rioting perhaps but vigorously protesting.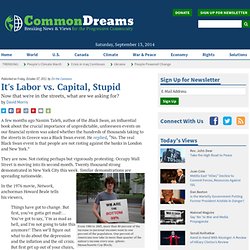 It's Labor vs. Capital, Stupid
RevolutionTruth - WikiLeaks and a Truth Revolution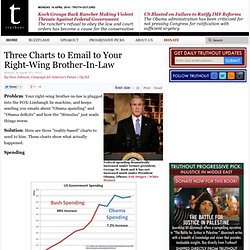 Three Charts to Email to Your Right-Wing Brother-In-Law
Problem : Your right-wing brother-in-law is plugged into the FOX-Limbaugh lie machine, and keeps sending you emails about "Obama spending" and "Obama deficits" and how the "Stimulus" just made things worse. Solution : Here are three "reality-based" charts to send to him. These charts show what actually happened. Spending
$$$$$$$$$$$$$$$$$$$$$$$$$$$ www.dollarsordemocracy.org #WeThePeople
According to the U.S. Supreme Court, that's every day. The U.S. Supreme Court claims that money is the same thing as speech. And now because of the 2010 Citizens United v. Federal Election Commission ruling, huge corporations can spend unlimited amounts of money to influence elections.