Language/Travel
Fun Latin - StumbleUpon. This page is dedicated to Judith L.
Scott. Requiescat in pace Some phrases from Latin for all Occasions , by Henry Beard. Excuses My dog ate it.
Things to do in Europe - Lonely Planet - StumbleUpon. Facing the Seine from quai Anatole France, the Musée d'Orsay is housed in a former train station (1900).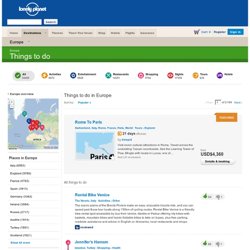 It displays France's national collection of paintings, sculptures, objets d'art and other works produced between the 1840s and 1914, including the fruits of the Impressionist, post-Impressionist and art nouveau movements. Many visitors to the museum go straight to the upper level (lit by a skylight) to see the famous Impressionist paintings by Monet, Pissarro, Renoir, Sisley, Degas and Manet and the post-Impressionist works by Cézanne, Van Gogh, Seurat and Matisse, but there's also lots to see on the ground floor, including some early works by Manet, Monet, Reno… reviewed 10 reviews | Write a review.
How to Travel Full-Time for $17,000 a Year (or Less!) | Wise Bread - StumbleUpon. Wise Bread Picks For the last five years, I've been traveling the world full-time, and for less money than I've ever spent (and I'd wager less money than most people would spend) to live in one place.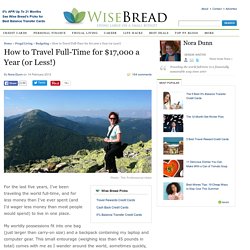 My worldly possessions fit into one bag (just larger than carry-on size) and a backpack containing my laptop and computer gear. This small entourage (weighing less than 45 pounds in total) comes with me as I wander around the world, sometimes quickly, but mostly slowly. (See also: 5 Best Travel Rewards Credit Cards) In 2011 alone, I traversed 13 countries and over 45,360 miles. French expressions you wont learn at school -- Expressions fran軋ises en Anglais - StumbleUpon.
---