French Stuff
Top 32 des activités insolites à faire à Paris, pour changer des musées. Vous avez vu la Tour Eiffel, vous avez vu les Champs, fait tous les parcs et musées de la capitale, et vous commencez à tourner en rond ?
C'est normal, et grâce à CIF ANTICALCAIRE Topito, ça va changer. Chasse aux trésors, jeux de piste, balades en bus électrique ou en bateau, châteaux hantés, on vous a répertorié tout un tas d'activités insolites qui devraient vous occuper pour un petit bout de temps. N'hésitez pas à nous filer vos bons plans en commentaires. Jeux et activités à sensation Hint Hunt : le 1er "Live Escape Game" français Enfermés dans une pièce avec votre équipe (3 à 5 personnes), vous avez 60 minutes pour résoudre une série d'énigmes et retrouver la liberté. A Tale of a Thousand Cities: 69 Fun Facts About France - StumbleUpon.
69 facts is back!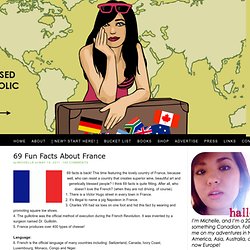 This time featuring the lovely country of France, because well, who can resist a country that creates superior wine, beautiful art and genetically blessed people? I think 69 facts is quite fitting. After all, who doesn't love the French? (when they are not driving, of course). How to Become a French Expat. If you're someone who believes that living in France is like vacationing in France, you might want to leave this page now.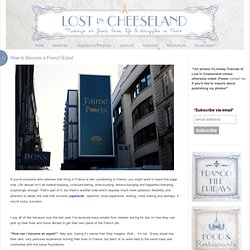 Life abroad isn't all market-hopping, croissant-eating, wine-slurping, terrace-lounging and baguette-chomping, surprisingly enough. That's part of it, but there's another side which requires much more patience, flexibility and attention to detail; the side that involves paperwork, rejection, more paperwork, waiting, more waiting and perhaps, if you're lucky, success. A House in France. Charming 200 year old 3 bedroomed country house with 153m² habitable space and 2300m of land.
In need of some renovation work but totally habitable. The house sits in the famously beautiful landscape of the massif central. From the garden it is possible to see several extinct volcanoes including Puy de Dome, one of the highest. The property is in a small hamlet containing 5 houses in the community of St Etienne des Champs with it's Marie and Church. The property was built around 1827 and was originally a small house with barns attached as is so common here in France. The Franco-American WebSite ; intercultural ; tips for americans about France and Paris ; France and the French - StumbleUpon. Learning French with Films — La Belle in France.
Replay - une vidéo Arts.
---