Moodle
Moodle.org: open-source community-based tools for learning. Login to the site. Please note: this is NOT your school , it's the place where Moodle software is created and supported!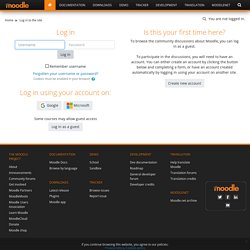 If you are lost please ask your school to help you find the correct web address for your Moodle site. To use Moodle.org fully you will need to make an account for yourself: Click the button below and fill out the form.An email will be immediately sent to your email address.Read your email, and click on the web link it contains.Your account will be confirmed and you will be logged in.Use the same username and password to log in next time.
Apprendre Moodle. Page 1/22 1.
Qu'est-ce que Moodle? 2. Vidéos sur l'apprentissage de moodle3. Moodle News | News, Information and Resources for the World's Leading LMS. Ateliers collaboratifs d'expérimentation pédagogique avec Moodle. Best content in MoodleLab. Mur des Ateliers - social networking.
---