College
JSTOR. Citation machine: Cater Your Citation needs,MLA,APA,Harvard. 100 Amazing How-To Sites to Teach Yourself Anything | Rated Colleges. Posted by Site Administrator in Online Learning May 7th, 2009 Learning new skills and expanding your knowledge doesn't have to cost you an arm and a leg.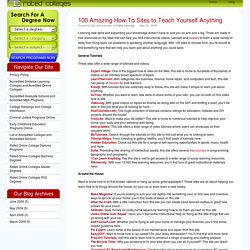 There are loads of free resources on the Web that can help you find instructional videos, tutorials and classes to learn a wide variety of skills from fixing basic car problems to speaking another language. With 100 sites to choose from, you're bound to find something here that will help you learn just about anything you could want.
General Tutorials These sites offer a wide range of tutorials and videos. Top 50 Most Motivational People on the Web | Under30CEO. 1.)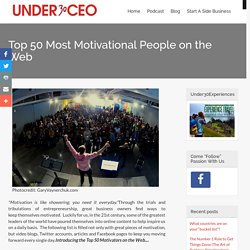 Oprah Winfrey: Legendary business woman urging everyone to "Live Your Best Life" Oprah's latest: Fill in the blank – the one thing I wished I had become is __. The one thing I will become is __.FacebookTwitter. The 5 must have apps for a class set of iP@ds. In the next few days, I will be rolling out a class set of iPads.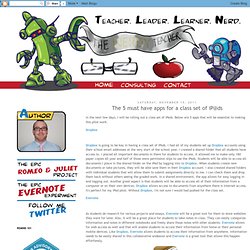 Below are 5 apps that will be essential to making this pilot work. Dropbox Dropbox is going to be key in having a class set of iPads. Khan Academy. Study Guides and Strategies - StumbleUpon. 10 Search Engines to Explore the Invisible Web - StumbleUpon.
The Invisible Web refers to the part of the WWW that's not indexed by the search engines.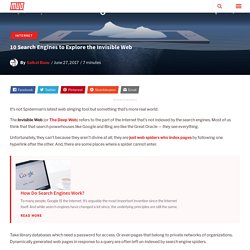 Most of us think that that search powerhouses like Google and Bing are like the Great Oracle"¦they see everything. Unfortunately, they can't because they aren't divine at all; they are just web spiders who index pages by following one hyperlink after the other. But there are some places where a spider cannot enter. Take library databases which need a password for access. WebTycho Login.
---