How to... in English
Writing descriptive paragraphs can be successful as one of the first writing activities for students. Start by helping students understand the difference between simple and complex sentences, and move on to practice writing complex sentences. Students should also be familiar with a wide range of descriptive adjectives.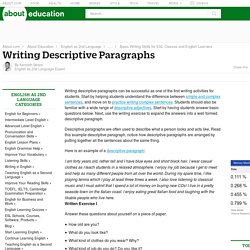 Writing Descriptive Paragraphs - How to Write Descriptive Paragraphs in English for ESL Learners
How to Write a Biography Biographies are delightful fun essays that most students enjoy writing. According to Webster's Dictionary, a biography is—1: a written history of a person's life; 2: biographical writings as a whole; 3: an account of the life of something (as an animal, a coin, or a building). In your class work, Biographies will be simple (and usually quite short) essays about someone else's life. An autobiography on the other hand, is a story (or essay) about your own personal life. As this section is about Biographies, you must keep yourself out of the essay altogether.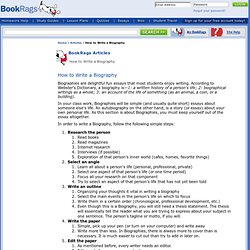 How to Write a Biography
Biography - How to Write an Interesting Biography
A biography is a written account of the series of events that make up a person's life. Every student will write a biography at some point, but the level of detail and sophistication will differ. A fourth grade biography will be much different from a middle school-level biography or a high school or college-level biography. However, each biography will include the basic details.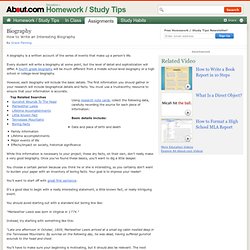 How to Write a Biography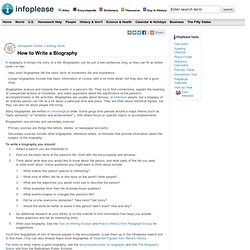 Homework Center: How to Write a Biography
A biography is simply the story of a life. Biographies can be just a few sentences long, or they can fill an entire book—or two. Very short biographies tell the basic facts of someone's life and importance. Longer biographies include that basic information of course, with a lot more detail, but they also tell a good story. Biographies analyze and interpret the events in a person's life.
How to write a speech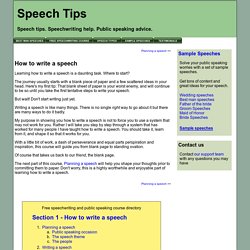 Learning how to write a speech is a daunting task. Where to start? The journey usually starts with a blank piece of paper and a few scattered ideas in your head. Here's my first tip: That blank sheet of paper is your worst enemy, and will continue to be so until you take the first tentative steps to write your speech. But wait!