Picsengine
INFO: How the Z-index Attribute Works for HTML Elements. There are many ways to classify elements on a Web page.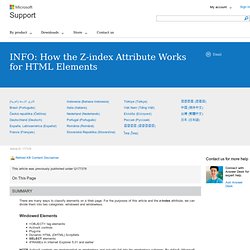 For the purposes of this article and the z-index attribute, we can divide them into two categories: windowed and windowless. Windowed Elements <OBJECT> tag elementsActiveX controlsPlug-insDynamic HTML (DHTML) ScriptletsSELECT elementsIFRAMEs in Internet Explorer 5.01 and earlierNOTE ActiveX controls are implemented as windowless and actually fall into the windowless category. By default, Microsoft Visual Basic and Microsoft Foundation Class (MFC) controls are windowed, but Active Template Library (ATL) controls are windowless. Windowless Elements. Mettre un div par dessus un flash. Forum - Vos Templates :) @ERIC ULVE: j'ai intégré PICSENGINE dans un CMS: GUPPY : c'est pas très compliqué, ce CMS a beaucoup d'avantages: simple, simple à administrer, en FRANCAIS!!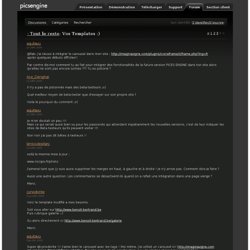 , bien sécurisé,et picsengine tourne très bien dans une fenêtre ou en plein écran! Nathan Zylbersztejn Photography. Galerie de Kévin et Gwen.
---