ASTRONOMIA
Discover the cosmos! Each day a different image or photograph of our fascinating universe is featured, along with a brief explanation written by a professional astronomer. 2012 March 12 The Scale of the Universe - Interactive Flash Animation Credit & Copyright: Cary & Michael Huang Explanation: What does the universe look like on small scales?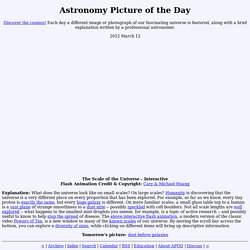 Description 3D simulation of the Solar System and night sky in real time - the Sun, planets, dwarf planets, comets, stars and constellations. - Heliocentric view with real-time positions of planets and planetary orbits - Schematic and realistic sizes of the planets and distances between them - Movement of the planets in time to see how they move in relation to each other - Virtual Orrery - Planetary exploration with info texts and additional views such as structure - Dwarf planets (Pluto, Ceres, Haumea, Makemake. Eris) and their orbits - Comets (Siding Spring, Lovejoy 2013, Lovejoy 2011, Panstarrs, ISON, Halley) - positions and trajectories - Stars and constellation of the night sky as viewed from a given location - Changes in the night sky during night, month and year - Searching of the stars and constellation, ecliptic line, grid lines and more
Cuento con vos - Powered by Google Docs
EL SISTYEMA SOLAR
Kids
La Tierra se ha interpuesto esta noche entre el Sol y la Luna, y la sombra del planeta azul ha ido poco a poco ocultando el satélite hasta taparlo por completo. Este eclipse lunar total alcanzó su punto máximo a las 22.14, hora peninsular española, y ha sido visible en toda Europa, África, Asia y Oceanía. En España, la zona donde mejor se ha podido observar el ciclo completo del eclipse fue en el extremo más oriental (costa mediterránea e Islas Baleares).
Un eclipse total de Luna, visto desde toda España · ELPAÍS.com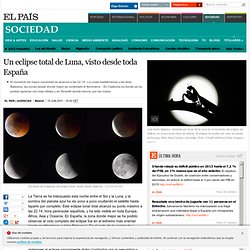 El Universo está lleno de contradicciones, tantas como la naturaleza humana. Hay certezas, pero también incógnitas. Un vistazo a las noticias de última hora confirma lo predecible y extraño que puede llegar a ser. Ejemplo de certeza: los científicos rinden tributo a Albert Einstein con observaciones que confirman su teoría de la relatividad general, ese exótico concepto que aúna espacio y tiempo como una sola cosa. Un satélite lanzado en 2004, Gravity Probe B (GP?
7 misterios del universo · ELPAÍS.com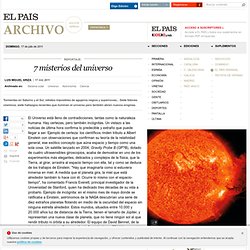 Astronomía para niñas y niños
LA TIERRA EN EL ESPACIO
El Universo