Photojournalisme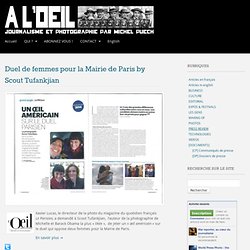 www.a-l-oeil.info | Journalisme & Photographie par Michel Puech
Xavier Lucas, le directeur de la photo du magazine du quotidien français Le Parisien, a demandé à Scout Tufankjian, l'auteur de la photographie de Michelle et Barack Obama la plus « likée », de jeter un « œil américain » sur le duel qui oppose deux femmes pour la Mairie de Paris. En savoir plus © Benjamin Girette / IP3 press : Kiev le 2 Fevrier 2014 : Un manifestant anonyme anti Yanukovitch inspecte les barricades ˆ l'entrŽe du stade Dynamo armŽ de son arme de poing sa croix et son talkie walkie. A 27 ans, Benjamin Girette est un de ces photojournalistes révélé par les « Printemps arabes ». Aujourd'hui, il revient de Kiev, avec une série de photos réalisées avec son iPhone.
Le SMS fut laconique : «Demain NKM et Rachida Dati feront un déplacement sur le thème de la sécurité des touristes. RDV a 11h à l'angle de la Bourdonnais et du quai Branly». Je suis planté à l'heure dite à cet angle de rues. Il semblerait que je n'aie pas été le seul à être convoqué ici.
Développements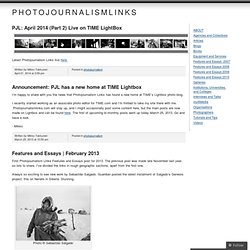 First Photojournalism Links Features and Essays post for 2013. The previous post was made late November last year, so lots to share. I've divided the links in rough geographic sections, apart from the first one. Always so exciting to see new work by Sebastião Salgado. Guardian posted the latest instalment of Salgado's Genesis project, this on Nenets in Siberia. Stunning.
Hubert Henrotte, fondateur des agences Gamma et Sygma, signe « Le monde dans les yeux » sur la vie et la mort des deux agences de presse les plus fameuses de ces 35 dernières années. Pourquoi avoir écrit « Le monde dans les yeux » (Hachette Littératures) ? J'ai été le témoin et l'un des acteurs de cette fantastique épopée qu'ont été la naissance et l'extraordinaire réussite des agences de presse photo françaises.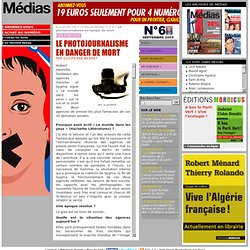 Le photojournalisme en danger de mort