Clothing
Vintage Clothing, Vintage Dresses, ADOREVINTAGE CLOTHING, Fabulous Vintage...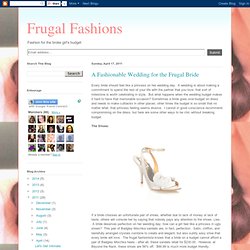 A Fashionable Wedding for the Frugal Bride
Every bride should feel like a princess on her wedding day. A wedding is about making a commitment to spend the rest of your life with the partner that you love; that sort of milestone is worth celebrating in style. But what happens when the wedding budget makes it hard to have that memorable occasion? Sometimes a bride goes over-budget on dress and needs to make cutbacks in other places; other times the budget is so small that no matter what, that princess feeling seems elusive.
My Pet Octopus Cuff | Mod Retro Vintage Bracelets | ModCloth.com
Are you completely in love with your Pet Octopus Necklace, but want to try something new? These bracelets feature the same friendly sea creature, but this time he's swimming along a double-bar cuff. As if that wasn't enough, these accessories are available in silver or antique gold to suit your octopus fancy! Are you completely in love with your Pet Octopus Necklace, but want to try something new?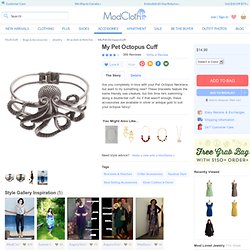 Vintage Art Lockets Unique Charms Adornments by verabel on Etsy
Spray On Clothing Video // Current
Roses on the Behance Network
Lego Interlocking Ring | WHATTHECOOL
Hanukkah is over, Christmas is done, and the New Year's ball has dropped. It's official: the winter break festivities are finally starting to dwindle. For some of you, that means you're on your way back to school soon, and for others (like me) your break is just getting started. But with two weeks already down the drain you're starting to wear thin. You've already seen the people you've wanted to see, shopped all your Christmas money away, and watched all the Millionaire Matchmaker reruns you can take. So what's a girl to do?
DIY Projects to Cure the Winter Break Boredom Blues - College Fashion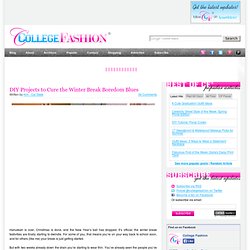 maria cristina bellucci: pencil crayon jewelry
nov 22, 2009 maria cristina bellucci: pencil crayon jewelry maria cristina bellucci worked for many years as a theatre costume designer and now creates her own jewelrymade from coloured pencils. the pieces are made using fragments of pencils that have been attached together and formed into a variety of shapes. the forming process reveal the interiors of the pencils, showcasing the wood and the coloured lead. http://www.klimt02.net/jewellers/index.php?item_id=11203 via why not?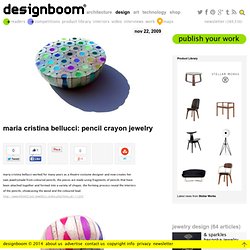 Secrets of the Web: Where to Go for Watches and Jewelry at up to 80% Off | H...
You'll start by cutting 2 circles from the piece of felt at approximately 2″ in diameter. Form the wires of your halo by molding and bending each piece into a half circle. Lay the two half circles opposite of each other to create a single circle, laying it over the top of your head to check the fit.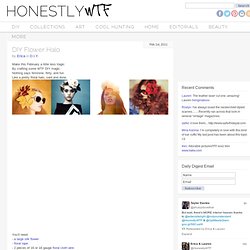 Entirely crafted by hand, each Vintage Faerie Studio piece is made just for you! Our hand stamped necklaces, bracelets, earrings, rings and charms offer personal custom options from birthdates, children's names to a simple word, or a favorite quote. Our handcrafted vintage photo charms make amazing family heirlooms to always treasure. Perfect for welcoming a new baby, celebrate a new mommy, or a simple way to enjoy a favorite piece of vintage art or a cherished photograph, our photo charms can be added to bracelets and chains, even cufflinks and keychains! Vintage Faerie Studio has been lovingly crafting jewelry by hand since the year 2000. We love what we do and hope you do as well!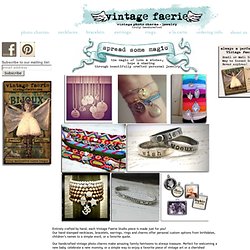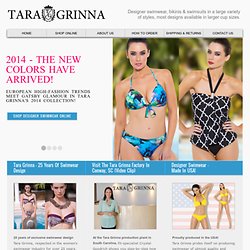 Designer swimwear, swimsuits & bikinis. Large cup sizes available.
The Tara Grinna Advantage Exclusive European fabrics Body flattering designs Wide variety of bra sizes Large cup-sizes available Compliment almost any figure Large variety of styles & designs Cover ups & sarongs to match Secure online shopping Phone support for your questions Proudly manufactured in the USA Visit our convenient and secure online store to shop for women's swimwear collections featuring bikinis, swimsuits, one piece bathing suits, and full coverage swimsuits, as well as cover-ups, pareos, sarongs and more selections of designer swimwear by Tara Grinna. Most of our designs are available in large cup sizes.
Shops - The Holiday Seasons Best Party Dresses - Discover More Shopping...
Heavenly Hostess :: Hostess & Everyday Aprons :: Serve with Grace.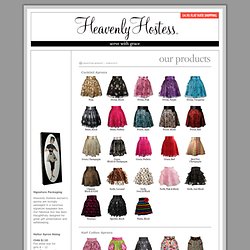 Signature Packaging Heavenly Hostess women's aprons are lovingly packaged in a luxurious signature keepsake box. Our fabulous box has been thoughtfully designed for great gift presentation and safekeeping.
Madame Gr&s (Alix Barton): Evening gown (1973.104.2) | Heilbrunn...
Christian Dior: "Venus" dress (C.I.53.40.7a-e
8 Cool and Creative 3D Door Stickers.
StumbleUpon
Corset [European] (C.I.39.13.211