Hair
Find out about Braids: Our Top 7 Picks. By kenziepoo | It's so hard to believe that fall will be upon us soon.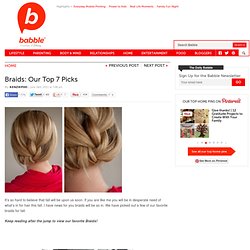 If you are like me you will be in desperate need of what's in for hair this fall. I have news for you braids will be so in. All things. Lunch: halumi salad with filled chicken ❤️#lunchtime #yum #delicious Quiet moment to think.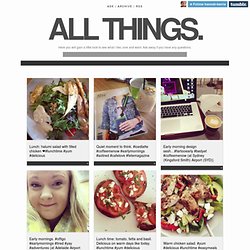 #icedlatte #coffeemenow #earlymornings #sotired #cafelove #fetemagazine. The best new recipes from The Kitchn | punchfork.com. D.I.Y. Curls: How To Rag Roll Your Hair. I love the look of naturally curly hair!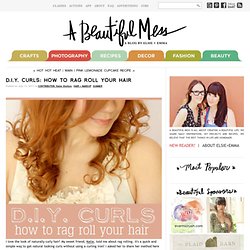 My sweet friend, Katie, told me about rag rolling. It's a quick and simple way to get natural looking curls without using a curling iron! I asked her to share her method here on A Beautiful Mess because I knew you'd be itching to learn like I was! How To Style Maiden Braids. Last month I did a makeover story with Kelsie and had many requests for a maiden braid tutorial.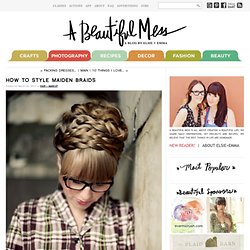 Yesterday she came in and we photographed these simple step by steps. Kelsie has extremely long and thick hair, but anyone with shoulder length or longer can do these braids (see my photo below for an example). Steps 1-2: Braid two strands on each side of a center part. Steps 3-5: Wrap braids around the crown of your head and pin in place with one pin each. Step 6: Arrange braids so that they cover the front of your head like a headband.
How to Wear a Scarf - Handmade Wedding. Posted December 9, 2011 | 9 Comments We featured a Real Wedding where the bride wore a light pink silk scarf with her wedding gown, and we remember it like the post was yesterday.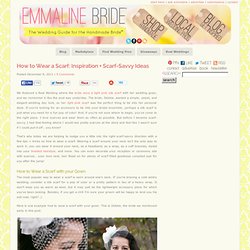 The bride, Debbie, wanted a simple, sweet, and elegant wedding day look, so her light pink scarf was the perfect thing to tie into her personal style. If you're looking for an accessory to tie into your bridal ensemble, perhaps a silk scarf is just what you need for a fun pop of color! And, if you're not sure where to begin, you've come to the right place. I love scarves and wear them as often as possible. Head Scarf Tutorial. After many requests, I finally made a tutorial on how to tie a simple head scarf.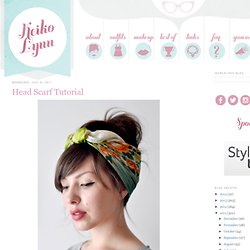 It's really, really easy. I did this without looking in the mirror, so that should tell you how easy it is. Let's get started! Start with a large, square scarf. I like my vintage silk scarves because they're soft and not bulky.
---