Blog Loving
...consciousness collection... My Best Friend Jules. Lifehacker Australia, tips and downloads to help you at work and play. Oh Happy Day! Papernstitch handmade blog - Part 2. When it comes to interiors, I love, love, love pops of color, especially when it's unexpected and flanked with white.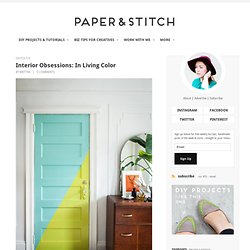 It feels so fresh to me. And it doesn't have to be all about paint either. You can accomplish the same things with accessories and furniture if you aren't into painting the walls or doors (or you can't paint because you're renting). Here are a handful of my favorite ways color is being incorporating into interiors at the moment… (above) How amazing is this aqua and lime color blocked door? Little chief honeybee. Sweet pea. Wee Birdy | Wee Birdy is an exploratory field guide to the hidden gems in London and Sydney and sparkling treasures on the (online) horizon. Two Brunettes - Two Brunettes. Oh the Oscars, boy do we love dress gawking, ballot filling, and meal planning once a year for our Annual Oscar Party.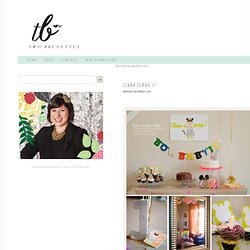 Usually it just ends up being my husband and I, but this year we actually got to plan a party! As I said earlier, Cyd from The Sweetest Occasion came over last weekend to help me craft up cute little goodie bags, and items for the party. BLOWUP BLOG! - Archive - DIY.
---