DIY ideas
Get flash to fully experience Pearltrees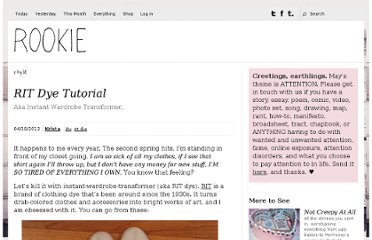 It happens to me every year. The second spring hits, I'm standing in front of my closet going, I am so sick of all my clothes, if I see that shirt again I'll throw up, but I don't have any money for new stuff, I'M SO TIRED OF EVERYTHING I OWN.
If you want a foldover leather clutch you could buy this unlined one for $150 . You could also buy one of the many available on Etsy.
Make a hand bound journal with elaborate side stitching for yourself or as a gift.
After you've done a few successful strip bracelets (pattern 1),you're ready to do the arrow one (chevron, pattern2).
Macraméd friendship bracelets were all the rage when I was growing up in the eighties. All the girls at my school would obsessively make them for one another in a dizzying variety of colors, widths, and patterns.
If you're anything like me, you have a hard drive (or three) of photos waiting to be printed. Take matters into your own hands and do it right at home! Printing onto canvas turns your photos into unique pieces that you can't get from a print shop.
By Kate on February 6, 2012
When H&M asked us to DIY a boho-inspired item for their summer issue, découpage was the first thing that came to mind.