Huerto Vertical
Problema al cargar la página-Mozilla Firefox (Navegación privada)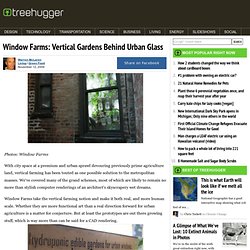 Photos: Window Farms With city space at a premium and urban sprawl devouring previously prime agriculture land, vertical farming has been touted as one possible solution to the metropolitan masses. We've covered many of the grand schemes, most of which are likely to remain no more than stylish computer renderings of an architect's skyscrapery wet dreams. Window Farms take the vertical farming notion and make it both real, and more human scale. Whether they are more functional art than a real direction forward for urban agriculture is a matter for conjecture.
Window Farms: Vertical Gardens Behind Urban Glass : TreeHugger-Mozilla Firefox (Navegación privada)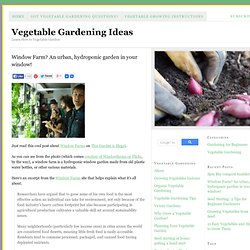 Just read this cool post about Window Farms on This Garden is Illegal. As you can see from the photo (which comes courtesy of Windowfarms on Flickr, by the way), a window farm is a hydroponic window garden made from old plastic water bottles, or other various materials. Here's an excerpt from the Window Farms site that helps explain what it's all about.
Window Farm? An urban, hydroponic garden in your window!-Mozilla Firefox (Navegación privada)
Resultados de la Búsqueda de imágenes de Google de http://electrictreehouse.com/wp-content/uploads/2011/01/window-farm-urban-garden-grow.jpg-Mozilla Firefox (Navegación privada)