Elizondomaru
Maru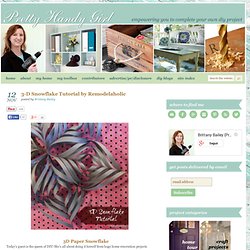 3-D Snowflake Tutorial by Remodelaholic
Today's guest is the queen of DIY! She's all about doing it herself from huge home renovation projects down to small ornaments. Please welcome Cassity from Remodelaholic! I think it is fun to let your kids get in on gift making, not just buying! Something simple that brings you together as family and doesn't break the bank? This not so little 3D snowflake is the perfect answer to getting your kids involved!
This is probably the most fattening, nutrient-devoid grilled cheese sandwich you'll ever try. It's irresponsible. It's indulgent. It's a renegade in a world saturated with health-focused food blogs.
Roasted Apple and Brie Grilled Cheese
AssembliShop on Etsy
Geometric Sculpture DIY
Lately I have been obsessed with the geometric trend…like I have been having dreams with little origami chandeliers and diamond-shaped plant holders and funky pyramid paper weights. I wanted to buy them all or buy the supplies to make them all but this last month our budget has been pretty tight. So I had to get my geometric fix using only the stuff I had lying around the house.