Games
This program is distributed in the hope that it will useful, but WITHOUT ANY WARRANTY; without even the implied warranty of MERCHANTABILITY or FITNESS FOR A PARTICULAR PURPOSE. See the GNU General Public License for more details. The ZSNES Team is not connected or affiliated with any mentioned company in any way.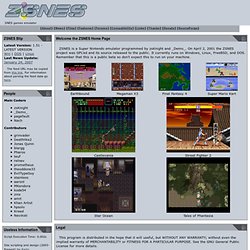 ZSNES Home Page - About ZSNES
David Parlett: Original Card Games
Chess Tactics Explained in English: Ward Farnsworth's Predator at the Chessboard
Have fun with The Webtender's collection of drinking games, but be extremely careful if you play any these games, especially the ones with high buzz factors. The collection was created as an aid to responsible adults who know their limits (and not to cross them) when it comes to drinking, and not to promote this kind of drinking behavior. You should of course be of legal drinking age if you want to play these games with beer or drinks, but anyone can play these games with non-alcoholic beverages as well. For more fun, visit the Web Site Index and go to one of the sites listed there.
The Webtender: Drinking Games.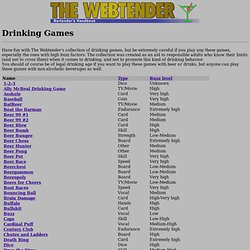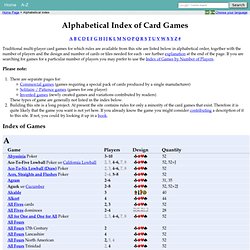 Alphabetical Index
Traditional multi-player card games for which rules are available from this site are listed below in alphabetical order, together with the number of players and the design and number of cards or tiles needed for each - see further explanation at the end of the page. If you are searching for games for a particular number of players you may prefer to use the Index of Games by Number of Players. Please note: There are separate pages for: Commercial games (games requiring a special pack of cards produced by a single manufacturer) Solitaire / Patience games (games for one player) Invented games (newly created games and variations contributed by readers) These types of game are generally not listed in the index below.
Samurai Sudoku Samurai sudoku puzzles consist of five overlapping sudoku grids. The standard sudoku rules apply to each9 x 9 grid. Place digits from 1 to 9 in each empty cell. Every row, every column, and every 3 x 3 box should contain one of each digit. The puzzles on Samurai Sudoku have one unique solution which can be found with pure logic, no guessing required.
Samurai Sudoku