Arts 2.0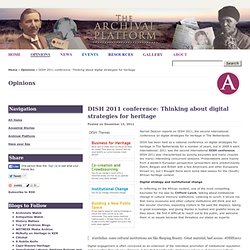 Harriet Deacon reports on DISH 2011, the second international conference on digital strategies for heritage in The Netherlands. DISH has been held as a national conference on digital strategies for heritage in The Netherlands for a number of years, but in 2009 it went international; 2011 was the second international DISH conference. DISH 2011 was characterised by punchy keynotes and many (maybe too many) interesting concurrent sessions. Presentations were mainly from a western European perspective (presenters were predominantly Dutch, Belgian and British with a few Americans and other Europeans thrown in), but I thought there were some take-aways for the (South) African heritage context. Digital strategy and institutional change
DISH 2011 conference: Thinking about digital strategies for heritage – Opinions – Archival Platform
Should museums be using social media more creatively? | Tate Blog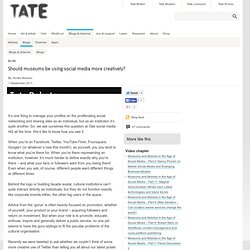 It's one thing to manage your profiles on the proliferating social networking and sharing sites as an individual, but as an institution it's quite another. So, we ask ourselves this question at Tate social media HQ all the time. We'd like to know how you see it. When you're on Facebook, Twitter, YouTube Flickr, Foursquare, Google+ (or whatever's new this month!)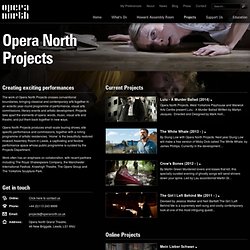 Creating exciting performances The work of Opera North Projects crosses conventional boundaries, bringing classical and contemporary arts together in an eclectic year-round programme of performance, visual arts commissions, literary events and artistic development. Projects take apart the elements of opera: words, music, visual arts and theatre, and put them back together in new ways. Opera North Projects produces small-scale touring shows, site specific performance and commissions, together with a rolling programme of artistic residencies. 'Home' is the beautifully restored Howard Assembly Room in Leeds, a captivating and flexible performance space whose public programme is curated by the Projects Department.
Opera North Projects | Opera North Projects
Mini Operas -
Opera North invites bloggers to get a ruddy blog ON | News | Opera North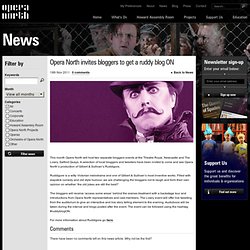 This month Opera North will host two separate bloggers events at the Theatre Royal, Newcastle and The Lowry, Salford Quays. A selection of local bloggers and tweeters have been invited to come and see Opera North's production of Gilbert & Sullivan's Ruddigore. Ruddigore is a witty Victorian melodrama and one of Gilbert & Sullivan's most inventive works. Filled with slapstick comedy and old style humour, we are challenging the bloggers not to laugh and form their own opinion on whether 'the old jokes are still the best?'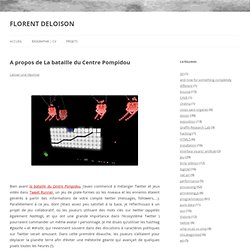 Bien avant la bataille du Centre Pompidou, j'avais commencé à mélanger Twitter et jeux vidéo dans Tweet Runner, un jeu de plate-formes où les niveaux et les ennemis étaient générés à partir des informations de votre compte twitter (messages, followers,…). Parallèlement à ce jeu, dont j'étais assez peu satisfait à la base, je réfléchissais à un projet de jeu collaboratif, où les joueurs utilisant des mots clés sur twitter (appelés également hashtags, et qui ont une grande importance dans l'écosystème Twitter ) pourraient commander un même avatar / personnage. Je me disais qu'utiliser les hashtag #gauche » et #droite, qui reviennent souvent dans des discutions à caractères politiques sur Twitter serait amusant.
A propos de La bataille du Centre Pompidou | Florent Deloison | blog
La bataille du centre Pompidou @ La nuit des musées 2011, centre Georges Pompidou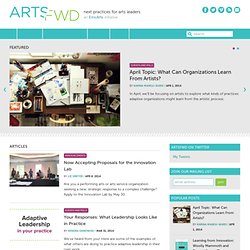 ArtsFwd | next practices for arts leaders
Are you a performing arts or arts service organization seeking a new, strategic response to a complex challenge? Apply to the Innovation Lab by May 30. We've heard from you! Here are some of the examples of what others are doing to practice adaptive leadership in their own work. We're revisiting five past posts from the blog that focus on leadership practices and processes. By "going lean," nonprofits use an cyclical, feedback-focused development process to use limited resources more effectively.
Chaîne de Imagination
Background[edit] Lee, seen performing here in 2008, developed iamamiwhoami with Björklund after the release of her second album in 2009. Since the upload of their first video to YouTube, the project's videos and music have been continuous and operate in "real time," and each song is completed just before being made available for viewing.[4] The first upload, "Prelude 699130082.451322" surfaced on YouTube in December 2009 and was the beginning of a since abstract storyline. Lee has said of this process "every time a production starts, it's being released very soon after to keep the conversation with the audience in the present.
iamamiwhoami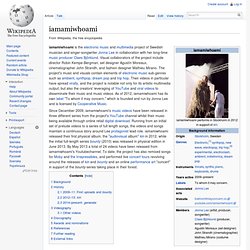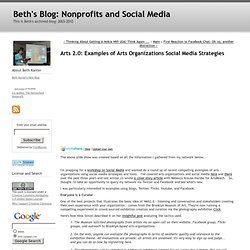 The above slide show was created based on all the information I gathered from my network below. I'm prepping for a workshop on Social Media and wanted do a round up of recent compelling examples of arts organizations using social media strategies and tools. I've covered arts organizations and social media here and there over the past three years and last winter co-wrote a cover story article with Rebecca Krause-Hardie for ArtsReach. So, thought I'd take an opportunity to query my network via Twitter and Facebook and see what's new.
Arts 2.0: Examples of Arts Organizations Social Media Strategies
"The words we use in attempting to change museum directions matter. We need translators within each cultural context. We do not yet have precise words or even uniform understanding of the words we use. But we do have 'and.' And a good thing, too." --Elaine Heumann Gurian, The Importance of "And"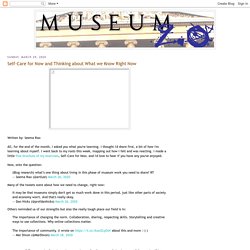 Kyma Ambiences [USO003] is the third sound effects bundle created by Matteo Milani (U.S.O. Project). The generation of these "Artificial Reality Ambiences" starts entirely in Symbolic Sound Kyma - during the development of projectgenesismovie.com - from the processing of white and pink noise by filtering - in the time/spectral domains - and convolving these sources with custom FM, additive, formant and granular synthesis. The composition's resource of sound material is drawn solely from these processed stochastic sound elements: coloured noise is a raw material already full of life and can be sculpted into a variety of temporal forms, movements and textures.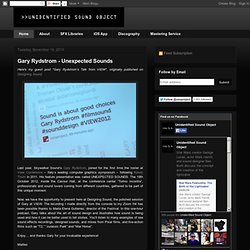 Unidentified Sound Object