Desserts
Fruits
Fiche de cuisine complète - 750 grammes. Les conseils de Chef Christophe : Dans la pâte à crêpes, vous pouvez ajouter 2 cuillères à soupe de Grand Marnier afin de donner du goût aux crêpes.Les zestes d'agrumes, la vanille et le rhum sont aussi les bienvenus.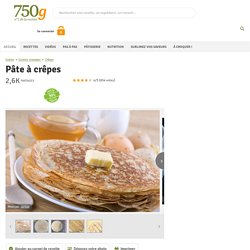 Vous pouvez faire la pâte uniquement au lait, elle n'en sera que meilleure. Le temps de repos est essentiel, car il évite d'avoir des crêpes élastiques et sèches. Si vos oeufs sont "normaux", mettez en 6/8, les crèpes seront plus moelleuses.
Delikatessen
Cookies. Cakes. Cooking & Recipes - Welcome to Baking 101 | QuakerOats.com. Confitures et plus. Homemade Nutella. Many years ago I worked in a restaurant in New York with a group of other cooks, who were mostly women and we were all friends.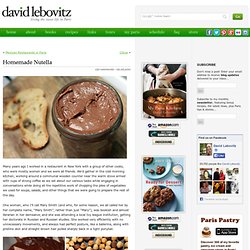 We'd gather in the cold morning kitchen, working around a communal wooden counter near the warm stove armed with cups of strong coffee as we set about our various tasks while engaging in conversations while doing all the repetitive work of chopping the piles of vegetables we used for soups, salads, and other things that we were going to prepare the rest of the day. One woman, who I'll call Mary Smith (and who, for some reason, we all called her by her complete name, "Mary Smith", rather than just "Mary"), was bookish and almost librarian in her demeanor, and she was attending a local Ivy league institution, getting her doctorate in Russian and Russian studies.
She worked very efficiently with no unnecessary movements, and always had perfect posture, like a ballerina, along with pristine skin and straight brown hair pulled sharply back in a tight ponytail.