ECONOMY
Economy | Future | EconomyWeb. 2011 European Finance Association Conference. .The 38th Annual Meeting of the European Finance Association, organized by Stockholm School of Economics (SSE), the Institute for Financial Research (SIFR) and Fisher College of Business, The Ohio State University, was held at Clarion Sign Hotel, Stockholm, Sweden August 17-20, 2011.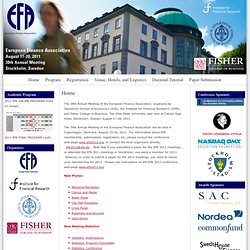 The 39th Annual Meeting of the European Finance Association will be held in Copenhagen, Denmark, August 15-18, 2012. For information about EFA membership, submissions, registration, etc. please consult the conference web-page www.efa2012.org or contact the local organizers directly: efa2012@cbs.dk. Note that if you submitted a paper for the EFA 2011 meetings, or attended the EFA 2011 meetings in Stockholm, you were a member for 2011. However, in order to submit a paper for the 2012 meetings, you need to renew your membership for 2012. Jeremy Rifkin | The Foundation on Economic Trends. The European affairs daily.
Project Syndicate - the highest quality op-ed articles, analysis and commentaries. The World Economic Forum. OpenDemocracy.
---