Geekattitude
Get flash to fully experience Pearltrees
Un site tente de mettre fin au "plus grand leurre d'Internet" , ciblant le processus auquel tout utilisateur s'étant inscrit à un service s'est plié en cochant la case se trouvant devant ces mots : "J'ai lu et j'accepte les conditions d'utilisation."
La bourse Créateur numérique est attribuée à un ou plusieurs candidats présentant un projet de création numérique comme :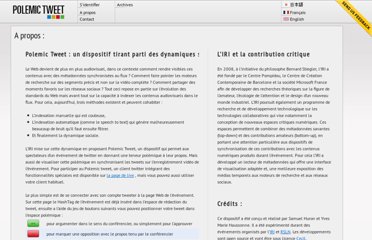 Polemic Tweet : un dispositif tirant parti des dynamiques sociales Le Web devient de plus en plus audiovisuel, dans ce contexte comment rendre visibles ces contenus avec des métadonnées synchronisées au flux ? Comment faire pointer les moteurs de recherche sur des segments précis et non sur la vidéo complète ? Comment partager des moments favoris sur les réseaux sociaux ? Tout ceci repose en partie sur l'évolution des standards du Web mais avant tout sur la capacité à indexer les contenus audiovisuels dans le flux. Pour cela, aujourd'hui, trois méthodes existent et peuvent cohabiter :
Sie heißen Freedom oder Self Control: Immer mehr Menschen schwören auf Programme, die das Internet zeitweise abschalten. Fehlt uns Nutzern die Selbstdisziplin?
PAS UN ORDINATEUR , pas une télé, pas le moindre petit ou grand écran à la Waldorf School of the Peninsula.