Berlin
Les histoires véritables et vraiment très intéressantes d'une Française à Berlin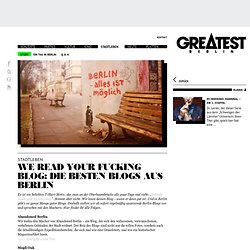 We Read Your Fucking Blog: die besten Blogs aus Berlin | Greatest Berlin
Es ist ein beliebtes T-Shirt-Motiv, das man an der Oberbaumbrücke alle paar Tage mal sieht: "Nobody reads your fucking blog" .
Rainbow Berlin
art:Berlin: Berlintourismus, Sehenswürdigkeiten, Führungen, Kunstführungen, Stadtführungen, Geschichtsführungen, Jüdische Geschichte, Incentives & Events in Berlin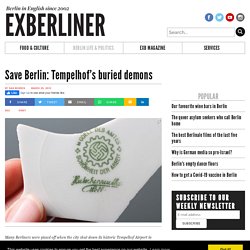 Save Berlin: Tempelhof's buried demons
Taking a cue from its new title, Tempelhofer Freiheit – "Tempelhof Freedom" – they've transformed its 950 acres into a sprawling playground/stage/urban laboratory where joggers and gardeners cross paths with runway models and techno DJs. be Berlin Designwettbewerb: hübsche Souvenirs gesucht! | FluxFM – Die Alternative im Radio.
Souvenirs Berlin// Bild: (cc-by) Geir Halvorsen @ flickr.com* Ampelmännchen als Schlüsselanhänger, der Alex als Kinderrassel, die Schneekugel mit Brandenburger Tor – ob man will oder nicht, der Würgereflex setzt einfach automatisch ein, sobald man an einem der vielen Souvenirläden der Stadt vorbeigeht. Egal wie viele Berlin Souvenirs es bereits gibt, Hauptsache geschmacklos und auf keinen Fall genug.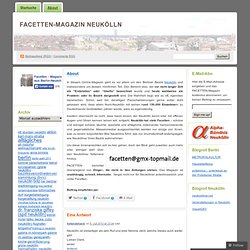 About | FACETTEN-Magazin Neukölln
In diesem Online-Magazin geht es vor allem um den Berliner Bezirk Neukölln und insbesondere um dessen nördlichen Teil.
We've said it before : Berlin only has two seasons, summer and winter.
How to Survive a Berlin Winter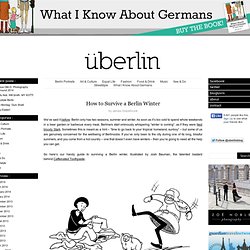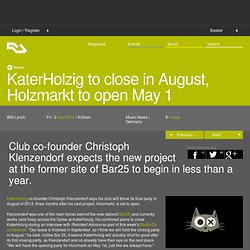 KaterHolzig co-founder Christoph Klenzendorf says his club will throw its final party in August of 2013, three months after his next project, Holzmarkt, is set to open.
RA News: KaterHolzig to close in August, Holzmarkt to open May 1
By Gavin Blackburn Berlin gives the Big Apple a run for its money when it comes to the accolade, 'The City That Never Sleeps'. Look in the right corners and Germany's capital offers plenty of opportunities for round-the-clock partying.
Berlin's best clubs and alternative nightlife - Time Out Berlin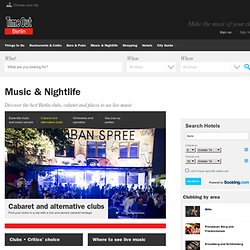 www.horst-krzbrg.de
Le Tacheles, squat emblématique de Berlin, contraint à la fermeture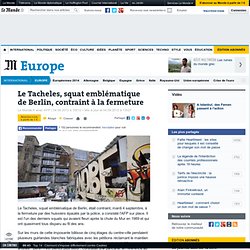 Le Tacheles, squat emblématique de Berlin, était contraint, mardi 4 septembre, à la fermeture par des huissiers épaulés par la police , a constaté l'AFP sur place. Il est l'un des derniers squats qui avaient fleuri après la chute du Mur en 1989 et qui ont quasiment tous disparu au fil des ans.
Good Morning Berlin - Berlin secret, insolite et pratique
<a href="http://ad.de.doubleclick.net/jump/oms.berliner-zeitung.de/event;oms=event;nielsen=5;sz=300x250;tile=3;ord=(none)?"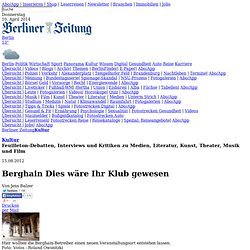 Berghain: Dies wäre Ihr Klub gewesen | Kultur 
NOTES OF BERLIN
Ma Thilda
Pieces of Berlin - Berlin ∆ Berliner ∆ Bilder ∆ Blog - limitierte Berlin C-Prints
Kreuzberg24.net :: Berlin-Kreuzberg
Start | Tip Berlin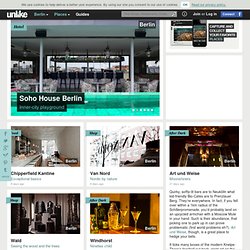 Billed as Europe's first "music hotel", nhow Berlin , a brick behemoth on the north bank of the river Spree in Friedrichshain, was built to beguile those exploring Berlin's music scene.
City Guides
Weird Vision | DJ-Kollektiv Berlin
A cheval entre les quartiers berlinois de Prenzlauer Berg et Wedding (aujourd'hui respectivement rattachés aux arrondissements de Pankow et Mitte), le Mauerpark est un parc public qui tient son nom du Mur de Berlin. En effet, la frontière entre l'Est et l'Ouest de la ville passait par ici. A cet endroit, le mur séparait le secteur français du secteur soviétique, et à la place de l'ancien champs de mine se dresse aujourd'hui un no man's land pacifique, festif et ludique.
 Les puces ont l'oreille : un dimanche à Mauerpark
Un temps menacé de disparition par un édile trop exigeant et obtus, le célèbre karaoké de Mauerpark à Berlin, animé par le Dublinois de 38 ans Joe Hatchiban, va continuer de faire le bonheur des touristes comme des Berlinois les plus avertis les dimanches après-midi. Un coup de chaud qui illustre peut être la gentrification de la capitale, la désaffection des Verts et l'émergence des Pirates...
La Gazette de Berlin:  Berlin: le karaoké de Mauerpark malgré le vert M. Katastrophe
Verlassene Orte « Urban Exploring Berlin spreeufer.com
Wo es wahrlich nicht zu vermuten war, stießen wir auf eine beeindruckende Farb-Explosion.
Abandoned Berlin
Berlin hat eine Unmenge von Seen, wie man auf der Karte sehen kann. Jeder Punkt ist ein See oder eine Badestelle an den Flüssen Havel und Dahme, ob jetzt klein oder groß, schmutzig oder sauber, gut zum schwimmen oder nur zum drumherum gehen.
Berlin - See
Le tre regole d'oro per cercare una stanza a Berlino | Berlino Cacio e Pepe
Trovare una casa/camera a Berlino è sempre più difficile, sopratutto lo è trovare una soluzione definitiva e non un subaffitto a tempo determinat o (io ho cercato di dare vari consigli con due articoli che trovate qui e qui ).
« Berlin ou la difficulté d'être capitale turque »
Les Princesses Ne Pleurent Jamais | Blogue très polémique favorable à l'abolition de la faim dans le monde
SprachDuo Berlin [powered by AEGEE-Berlin e.V.]
Best Places in Berlin. Amen. | I ♥ electru.de
arena Berlin - Badeschiff
BERLIN : GO - Nantes > Le bOOst
Rewind Berlin
«Bar 25»-Macher öffnet neuen Club in Kreuzberg | Berlin 
Berlin
Berliner Kiez-Blogs
579144_444853358864281_187743444575275_2009659_598380669_n.jpg (960×679)
Wonderpots | Dein FROZEN YOGURT Shop in Berlin mit tollen Catering Ideen
Neukölln / Programm !
L'esprit Prenzlauer Berg à Berlin
50 Menschen, eine Frage: Was ist Berlin für dich?
SEINE SEELE AN DIE BVG VERKAUFEN - Wie man Ticket-Kontrolleur wird
EXBERLINER - Berlin in English
the definitive city guide for the mobile generation | Unlike City Guides
7. Berlin Biennale
Liebe Deine Stadt