Berlin
Stressfaktor: Startseite. Les histoires véritables et vraiment très intéressantes d'une Française à Berlin. We Read Your Fucking Blog: die besten Blogs aus Berlin | Greatest Berlin. Es ist ein beliebtes T-Shirt-Motiv, das man an der Oberbaumbrücke alle paar Tage mal sieht: "Nobody reads your fucking blog ".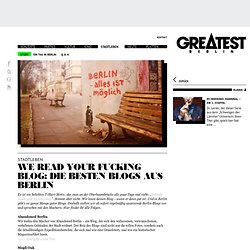 Stimmt aber nicht. Wir lesen deinen Blog – wenn er denn gut ist. Und in Berlin gibt's ne ganze Menge guter Blogs. Deshalb stellen wir ab sofort regelmäßig spannende Berlin-Blogs vor und sprechen mit den Machern. Rainbow Berlin. Art:Berlin: Berlintourismus, Sehenswürdigkeiten, Führungen, Kunstführungen, Stadtführungen, Geschichtsführungen, Jüdische Geschichte, Incentives & Events in Berlin. Save Berlin: Tempelhof's buried demons. Taking a cue from its new title, Tempelhofer Freiheit – "Tempelhof Freedom" – they've transformed its 950 acres into a sprawling playground/stage/urban laboratory where joggers and gardeners cross paths with runway models and techno DJs.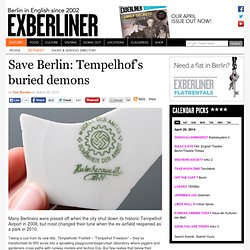 But few realise that below their bicycles, rollerblades and high heels lie some of Berlin's darkest secrets. Berliners love their new park's don't-fence-me-in vibe, but the city's planners say Tempelhofer Freiheit is a little too free. First they want to nibble away at the edges, ringing the park with a mini-city of apartments, offices and a massive central library. Then they'll tame the wild open middle with a kind of art installation/amusement park. The proposed design by British landscape architecture firm GROSS.MAX calls for a round reflecting pond, raised walkways and fake 60m-high mountain peak. Be Berlin Designwettbewerb: hübsche Souvenirs gesucht! | FluxFM – Die Alternative im Radio. Souvenirs Berlin// Bild: (cc-by) Geir Halvorsen @ flickr.com* Ampelmännchen als Schlüsselanhänger, der Alex als Kinderrassel, die Schneekugel mit Brandenburger Tor – ob man will oder nicht, der Würgereflex setzt einfach automatisch ein, sobald man an einem der vielen Souvenirläden der Stadt vorbeigeht.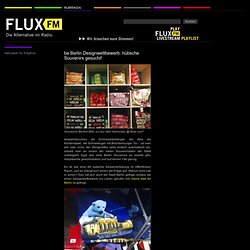 Egal wie viele Berlin Souvenirs es bereits gibt, Hauptsache geschmacklos und auf keinen Fall genug. Es ist wie eine Art optische Körperverletzung im öffentlichen Raum, und es drängt sich einem die Frage auf: Warum nicht mal in schön? Das hat sich auch die Stadt Berlin gefragt, sodass sie einen Designwettbewerb ins Leben gerufen hat: Deine Idee für Berlin ist gefragt. About | FACETTEN-Magazin Neukölln. In diesem Online-Magazin geht es vor allem um den Berliner Bezirk Neukölln und insbesondere um dessen nördlichen Teil.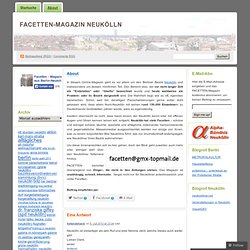 Den Bereich also, der vor nicht langer Zeit als "Endstation" oder "Ghetto" bezeichnet wurde und heute wahlweise als Problem- oder In- Bezirk dargestellt wird. Die Wahrheit liegt, wie so oft, irgendwo dazwischen. Schon weil bei derartigen Pauschalisierungen gerne außer Acht gelassen wird, dass allein Nord-Neukölln mit seinen rund 150.000 Einwohnern zu Deutschlands Großstädten zählen würde, wäre es eigenständig.
How to Survive a Berlin Winter. We've said it before: Berlin only has two seasons, summer and winter.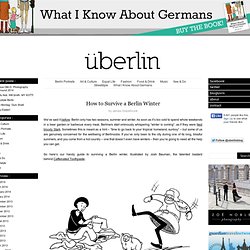 As soon as it's too cold to spend whole weekends in a beer garden or barbecue every meal, Berliners start ominously whispering "winter is coming", as if they were Ned bloody Stark. Sometimes this is meant as a hint – "time to go back to your tropical homeland, sunboy" – but some of us are genuinely concerned for the wellbeing of Berlinoobs. If you've only been to the city during one of its long, blissful summers, and you come from a hot country – one that doesn't even have winters – then you're going to need all the help you can get. So here's our handy guide to surviving a Berlin winter, illustrated by Josh Bauman, the talented bastard behind Caffeinated Toothpaste: KaterHolzig to close in August, Holzmarkt to open May 1. Share this news story Club co-founder Christoph Klenzendorf expects the new project at the former site of Bar25 to begin in less than a year.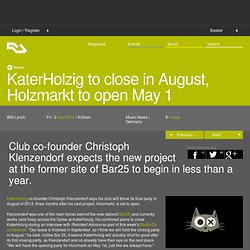 KaterHolzig co-founder Christoph Klenzendorf says his club will throw its final party in August of 2013, three months after his next project, Holzmarkt, is set to open. Klenzendorf was one of the main forces behind the now-defunct Bar25, and currently works (and lives) across the Spree at KaterHolzig. He confirmed plans to close KaterHolzig during an interview with Resident Advisor as part of this week's BerMuDa conference. Berlin's best clubs and alternative nightlife - Time Out Berlin. Discover the best Berlin clubs, cabaret and places to see live music Best cabaret and alternative nightlife Neues Ufer.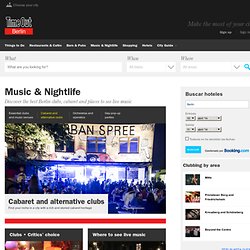 Www.horst-krzbrg.de. Le Tacheles, squat emblématique de Berlin, contraint à la fermeture. Le Tacheles, squat emblématique de Berlin, était contraint, mardi 4 septembre, à la fermeture par des huissiers épaulés par la police, a constaté l'AFP sur place.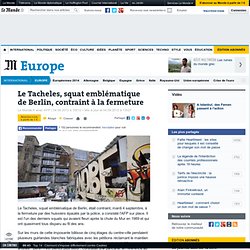 Il est l'un des derniers squats qui avaient fleuri après la chute du Mur en 1989 et qui ont quasiment tous disparu au fil des ans. Sur les murs de cette imposante bâtisse de cinq étages du centre-ville pendaient plusieurs guirlandes blanches fabriquées avec les pétitions réclamant le maintien du squat occupé depuis le 13 février 1990 – peu après la chute du Mur – par des artistes. "Berlin n'est bientôt plus sexy", constatait une pancarte, en référence au slogan de Berlin, "ville pauvre mais sexy". "C'est le vol d'une œuvre d'art protégé par la police", a lancé le porte-parole du Tacheles, Martin Reiter, devant une centaine de sympathisants et de journalistes rassemblés dans le calme devant le bâtiment. Avant l'arrivée de la police, deux artistes du Tacheles vêtus de noir ont entonné au piano une sorte d'oraison funèbre. Good Morning Berlin - Berlin secret, insolite et pratique.
Berghain: Dies wäre Ihr Klub gewesen | Kultur  NOTES OF BERLIN. Ma Thilda. Pieces of Berlin - Berlin ∆ Berliner ∆ Bilder ∆ Blog - limitierte Berlin C-Prints. Kreuzberg24.net :: Berlin-Kreuzberg. Start | Tip Berlin. City Guides. Quirky, softly-lit bars are to Neukölln what kid-friendly Bio-Cafes are to Prenzlauer Berg.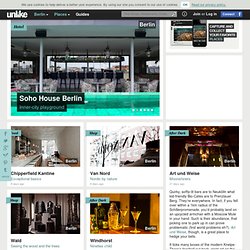 They're everywhere. In fact, if you fell over within a 1km radius of the Schillerpromenade, you'd probably land on an upcycled armchair with a Moscow Mule in your hand. Such is their abundance, that picking one to park up in can prove problematic (first world problems eh?). Weird Vision | DJ-Kollektiv Berlin.  Les puces ont l'oreille : un dimanche à Mauerpark.  Berlin: le karaoké de Mauerpark malgré le vert M. Katastrophe. Verlassene Orte « Urban Exploring Berlin spreeufer.com. Wenngleich das ehemalige Postamt 11 hierselbst bereits illustriert wurde, möge dieses, nach wiederholtem Wunsch, abermals aufgerollt werden.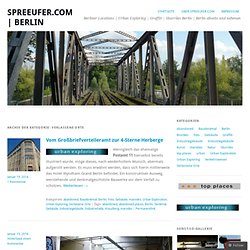 Es muss erwähnt werden, dass sich hierin mittlerweile das Hotel Wyndham Grand Berlin befindet. Ein konstruktiver Ausweg, leerstehende und denkmalgeschützte Bauwerke vor dem Verfall zu schützen. Weiterlesen. Abandoned Berlin. Berlin - See. Für Kleinkinder empfehlen wir (abgesehen von den Freibädern): Müggelsee, Kinderbadestelle Oberhavel, Großes Fenster. Da kann man 30 Meter in den See laufen, und das Wasser geht einem bis zum Knie.
Den Kids also bis zum Hals. FKKler holen sich ihren Rundumsonnenbrand am einfachsten in: Halensee, Grunewaldsee, Flughafensee, Langer See, Habermannsee, Teufelssee, Radfahrerwiese, Müggelsee, Plötzensee, Arkenberger See Nackige Schwule müssen zum Westufer vom Habermannsee. Für Hunde empfiehlt sich das Südufer vom Grunewaldsee (beim Jagdschloss). Le tre regole d'oro per cercare una stanza a Berlino. Trovare una casa/camera a Berlino è sempre più difficile, sopratutto lo è trovare una soluzione definitiva e non un subaffitto a tempo determinato (io ho cercato di dare vari consigli con due articoli che trovate qui e qui). Federico si è trovato nella condizione di cercare casa già parecchie volte lo scorso anno e ha deciso di raccontare la sua esperienza (più altre cose) all'interno del suo bel blog Qualcuno a cercarmi (il suo twitter è @brainsquatted ) .
Trovo il suo stile molto carino ed è per questo che gli ho chiesto di scrivere un piccolo resoconto della sua esperienza per Berlino Cacio e Pepe. Eccolo. Le tre regole d'oro per cercare una stanza a Berlino. « Berlin ou la difficulté d'être capitale turque » A l'occasion de notre dossier du mois consacré à Berlin, entretien avec Gilles Duhem, directeur d'une association de quartier, qui revient sur l'immigration turque dans la capitale allemande. Par Gilles Duhem · 17 novembre 2009 LMU : Quelle différence existe-t-il entre les situations française et allemande ?
L'immigration turque allemande est une immigration récente qui date des années 1960 et n'est pas liée, comme en France, à un post-colonialisme ou une « ré-immigration » de type français. Cette immigration a en effet commencé en 1961 avec un accord mis en place entre la république fédérale d'Allemagne et la Turquie. Les Princesses Ne Pleurent Jamais | Blogue très polémique favorable à l'abolition de la faim dans le monde.
SprachDuo Berlin [powered by AEGEE-Berlin e.V.] Best Places in Berlin. Amen. Arena Berlin - Badeschiff. BERLIN : GO - Nantes > Le bOOst. Rewind Berlin. «Bar 25»-Macher öffnet neuen Club in Kreuzberg | Berlin  Berliner Kiez-Blogs. Wonderpots | Dein FROZEN YOGURT Shop in Berlin mit tollen Catering Ideen. 50 Menschen, eine Frage: Was ist Berlin für dich? SEINE SEELE AN DIE BVG VERKAUFEN - Wie man Ticket-Kontrolleur wird. EXBERLINER - Berlin in English. The definitive city guide for the mobile generation. 7. Berlin Biennale. Liebe Deine Stadt.
---