Berlin
Cohabitation forcée avec pléthore de bouquins écrits par des gens aux noms à coucher dehors - je soupçonne les théoriciens de la pédagogie musicale allemande de s'être lancés dans ce domaine en réaction aux brimades subies dans la cour de récréation durant toute leur scolarité. Non mais Sigrid Abel-Struth, Ulrike Klees-Dacheneder, Friedeman Schulz von Thun, Karl Heinrich Ehrenforth, seriously ?? J-22 avant d'envoyer valdinguer à tout jamais cette smala de handicapés patronymiques et leurs écrits qui sentent les sphincters pincés. D'ailleurs, en parlant de sphincters, j'ai gribouillé un truc à la bibliothèque pour faire une pause entre deux textes où ça se disputait sévère sur le thème de l'apprentissage par l'imitation, c'est l'histoire de Henrik qui veut ranimer sa flamme à Jana avec un petit cadeau, mais Henrik n'est pas doué pour les cadeaux. Voilà, pardon, je retourne au travail.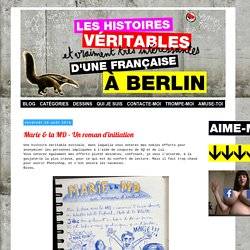 Les histoires véritables et vraiment très intéressantes d'une Française à Berlin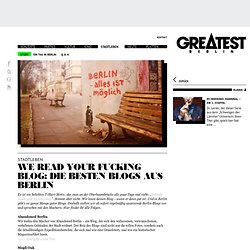 We Read Your Fucking Blog: die besten Blogs aus Berlin | Greatest Berlin
Es ist ein beliebtes T-Shirt-Motiv, das man an der Oberbaumbrücke alle paar Tage mal sieht: "Nobody reads your fucking blog ". Stimmt aber nicht. Wir lesen deinen Blog – wenn er denn gut ist. Und in Berlin gibt's ne ganze Menge guter Blogs. Deshalb stellen wir ab sofort regelmäßig spannende Berlin-Blogs vor und sprechen mit den Machern.
Impossible de les manquer, à Berlin, ces tuyaux roses qui traversent la ville, suivent les allées, enjambent les rues, se tordent le long des barrières avant de replonger sous terre et ressortir à quelques mètres de là. Ces tuyaux dessinent des arabesques post-modernes fluo au milieu des sites de construction berlinois. Mais que sont ces tuyaux, bon sang? A quoi servent-ils? Bien que j'habite depuis plus de 5 ans à Berlin, je n'ai jamais...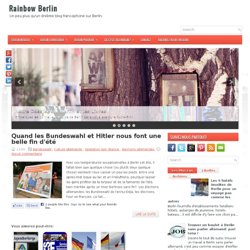 Rainbow Berlin
art:Berlin: Berlintourismus, Sehenswürdigkeiten, Führungen, Kunstführungen, Stadtführungen, Geschichtsführungen, Jüdische Geschichte, Incentives & Events in Berlin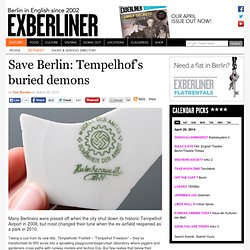 Save Berlin: Tempelhof's buried demons
Taking a cue from its new title, Tempelhofer Freiheit – "Tempelhof Freedom" – they've transformed its 950 acres into a sprawling playground/stage/urban laboratory where joggers and gardeners cross paths with runway models and techno DJs. But few realise that below their bicycles, rollerblades and high heels lie some of Berlin's darkest secrets. Berliners love their new park's don't-fence-me-in vibe, but the city's planners say Tempelhofer Freiheit is a little too free. First they want to nibble away at the edges, ringing the park with a mini-city of apartments, offices and a massive central library. Then they'll tame the wild open middle with a kind of art installation/amusement park. The proposed design by British landscape architecture firm GROSS.MAX calls for a round reflecting pond, raised walkways and fake 60m-high mountain peak.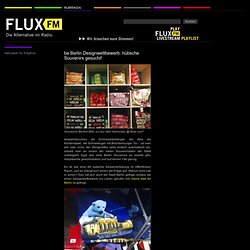 be Berlin Designwettbewerb: hübsche Souvenirs gesucht! | FluxFM – Die Alternative im Radio.
Souvenirs Berlin// Bild: (cc-by) Geir Halvorsen @ flickr.com* Ampelmännchen als Schlüsselanhänger, der Alex als Kinderrassel, die Schneekugel mit Brandenburger Tor – ob man will oder nicht, der Würgereflex setzt einfach automatisch ein, sobald man an einem der vielen Souvenirläden der Stadt vorbeigeht. Egal wie viele Berlin Souvenirs es bereits gibt, Hauptsache geschmacklos und auf keinen Fall genug. Es ist wie eine Art optische Körperverletzung im öffentlichen Raum, und es drängt sich einem die Frage auf: Warum nicht mal in schön? Das hat sich auch die Stadt Berlin gefragt, sodass sie einen Designwettbewerb ins Leben gerufen hat: Deine Idee für Berlin ist gefragt.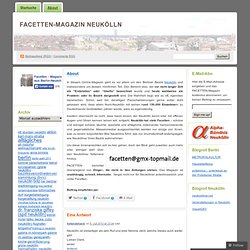 About | FACETTEN-Magazin Neukölln
In diesem Online-Magazin geht es vor allem um den Berliner Bezirk Neukölln und insbesondere um dessen nördlichen Teil. Den Bereich also, der vor nicht langer Zeit als "Endstation" oder "Ghetto" bezeichnet wurde und heute wahlweise als Problem- oder In- Bezirk dargestellt wird. Die Wahrheit liegt, wie so oft, irgendwo dazwischen. Schon weil bei derartigen Pauschalisierungen gerne außer Acht gelassen wird, dass allein Nord-Neukölln mit seinen rund 150.000 Einwohnern zu Deutschlands Großstädten zählen würde, wäre es eigenständig.
We've said it before: Berlin only has two seasons, summer and winter. As soon as it's too cold to spend whole weekends in a beer garden or barbecue every meal, Berliners start ominously whispering "winter is coming", as if they were Ned bloody Stark. Sometimes this is meant as a hint – "time to go back to your tropical homeland, sunboy" – but some of us are genuinely concerned for the wellbeing of Berlinoobs. If you've only been to the city during one of its long, blissful summers, and you come from a hot country – one that doesn't even have winters – then you're going to need all the help you can get. So here's our handy guide to surviving a Berlin winter, illustrated by Josh Bauman, the talented bastard behind Caffeinated Toothpaste:
How to Survive a Berlin Winter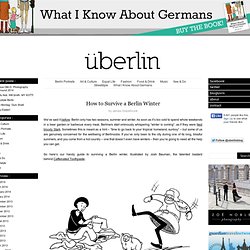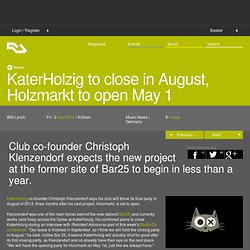 Share this news story Club co-founder Christoph Klenzendorf expects the new project at the former site of Bar25 to begin in less than a year. KaterHolzig co-founder Christoph Klenzendorf says his club will throw its final party in August of 2013, three months after his next project, Holzmarkt, is set to open. Klenzendorf was one of the main forces behind the now-defunct Bar25, and currently works (and lives) across the Spree at KaterHolzig. He confirmed plans to close KaterHolzig during an interview with Resident Advisor as part of this week's BerMuDa conference.
RA News: KaterHolzig to close in August, Holzmarkt to open May 1
Discover the best Berlin clubs, cabaret and places to see live music Best cabaret and alternative nightlife Neues Ufer
Berlin's best clubs and alternative nightlife - Time Out Berlin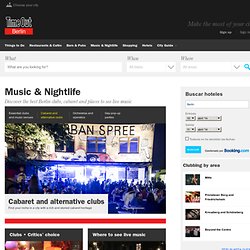 www.horst-krzbrg.de
Le Tacheles, squat emblématique de Berlin, contraint à la fermeture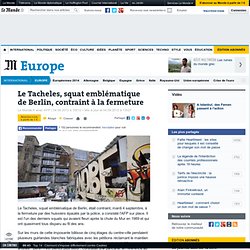 Le Tacheles, squat emblématique de Berlin, était contraint, mardi 4 septembre, à la fermeture par des huissiers épaulés par la police, a constaté l'AFP sur place. Il est l'un des derniers squats qui avaient fleuri après la chute du Mur en 1989 et qui ont quasiment tous disparu au fil des ans. Sur les murs de cette imposante bâtisse de cinq étages du centre-ville pendaient plusieurs guirlandes blanches fabriquées avec les pétitions réclamant le maintien du squat occupé depuis le 13 février 1990 – peu après la chute du Mur – par des artistes. "Berlin n'est bientôt plus sexy", constatait une pancarte, en référence au slogan de Berlin, "ville pauvre mais sexy". "C'est le vol d'une œuvre d'art protégé par la police", a lancé le porte-parole du Tacheles, Martin Reiter, devant une centaine de sympathisants et de journalistes rassemblés dans le calme devant le bâtiment. Avant l'arrivée de la police, deux artistes du Tacheles vêtus de noir ont entonné au piano une sorte d'oraison funèbre.
Good Morning Berlin - Berlin secret, insolite et pratique
Berghain: Dies wäre Ihr Klub gewesen | Kultur 
NOTES OF BERLIN
Dieses Jahr übernehmen wir für de Mukoviszidose e.V. auch die Planung des Bühnenprogramms. Darum suchen wir Bands und Künstler aller Art die Lust haben am 17.05. im Lustgarten (Potsdam) auf unserer Bühne zu stehen oder als Akt an einem unse...rer Stände zu spielen Schreibt uns eure "Bewerbung" mit Fotos, Videos und Musik-Links an: agentur@kontraschall.de Und teilt unseren Aufruf auch mit Anderen!
Ma Thilda
hooray!!! pieces of berlin is 4 years online!!! der fritz war der erste, der am 26.3.2010 gepostet wurde. jetzt sind es 565 "pieces" die sich angesammelt haben und mitunter nun auch das erste pob buch füllten.unsere stadt ist ständig in bewegung und pob wird weiterhin versuchen ihr gesichter zu geben und sich dem berliner alltag zu widmen.danke euch allen für's mitmachen, followen, liken, sharen, prints/bücher kaufen und so weiter!
Pieces of Berlin - Berlin ∆ Berliner ∆ Bilder ∆ Blog - limitierte Berlin C-Prints
Kreuzberg24.net :: Berlin-Kreuzberg
Start | Tip Berlin
City Guides
Weird Vision | DJ-Kollektiv Berlin
 Les puces ont l'oreille : un dimanche à Mauerpark
La Gazette de Berlin:  Berlin: le karaoké de Mauerpark malgré le vert M. Katastrophe
Verlassene Orte « Urban Exploring Berlin spreeufer.com
Abandoned Berlin
Berlin - See
Le tre regole d'oro per cercare una stanza a Berlino | Berlino Cacio e Pepe
« Berlin ou la difficulté d'être capitale turque »
Les Princesses Ne Pleurent Jamais | Blogue très polémique favorable à l'abolition de la faim dans le monde
SprachDuo Berlin [powered by AEGEE-Berlin e.V.]
Best Places in Berlin. Amen. | I ♥ electru.de
arena Berlin - Badeschiff
BERLIN : GO - Nantes > Le bOOst
Rewind Berlin
«Bar 25»-Macher öffnet neuen Club in Kreuzberg | Berlin 
Berliner Kiez-Blogs
Wonderpots | Dein FROZEN YOGURT Shop in Berlin mit tollen Catering Ideen
L'esprit Prenzlauer Berg à Berlin
50 Menschen, eine Frage: Was ist Berlin für dich?
SEINE SEELE AN DIE BVG VERKAUFEN - Wie man Ticket-Kontrolleur wird
EXBERLINER - Berlin in English
the definitive city guide for the mobile generation | Unlike City Guides
7. Berlin Biennale
Liebe Deine Stadt