Website Hosts
Websites come in various forms. While most users do not associate social networking with websites, they are indeed websites. Often social networks lack the freedom of your own website.

On the other hand social networks make it as easy as possible to have a intenet presence.

Some website providers give you tools to build websites but often they resemble a blog when you use them and so also restrict your freedom to design the website.

Freedom of website design can bring a lot of questions also: how do I get the stats from my website about things like page visits and search engine inputs that get visitors here? How do I sell stuff? How do I get those guest, and comment boxes? Am I infringing on other peoples rights when I put in some content in my website? How do I arrange my website so it makes sense to visitors? What is a Meta Data tag? Feb 25
" It's a way our clients can get to know us and see our culture without physically visiting the store. I couldn't believe I got the site up and running over one weekend." " I have been an entrepreneur for many, years, but suddenly my art licensing is really coming together and I need to have a simple, bold statement about my art.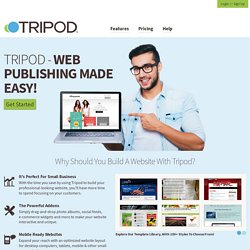 It's Perfect for Small Business With the time you save by using Tripod to build your professional-looking website, you'll have more time to spend focusing on your customers. The Powerful Addons Simply drag-and-drop photo albums, social feeds, e-commerce widgets and more to make your website interactive and unique. Mobile Ready Websites
Site Builder Shopping Cart Start selling, today! Use our quick and easy Shopping Cart Add-on for the Angelfire Site Builder and get an online store up and running in minutes. Site Builder Styles New template styles for our Site Builder are added frequently.Check out our full catalog of styles!
Website Hosts ☆ Team Curated
Web Hosting and Domain Names