Gamma Ray Astronomy
Gamma Ray Astronomy - Team Curated
Electro Magnetic Spectrum
The electromagnetic (EM) spectrum is the range of all types of EM radiation. Radiation is energy that travels and spreads out as it goes – the visible light that comes from a lamp in your house and the radio waves that come from a radio station are two types of electromagnetic radiation. The other types of EM radiation that make up the electromagnetic spectrum are microwaves, infrared light, ultraviolet light, X-rays and gamma-rays.
Electromagnetic Spectrum - Introduction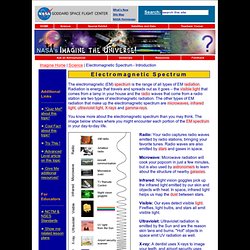 gamma-ray telescope (astronomy
Cherenkov light Detectors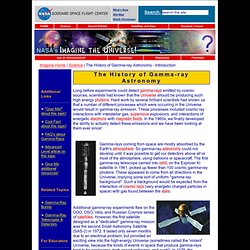 The History of Gamma-ray Astronomy - Introduction
Long before experiments could detect gamma-rays emitted by cosmic sources, scientists had known that the Universe should be producing such high energy photons.
Crab pulsar dazzling gamma-ray beams
Oct. 6, 2011 — A thousand years ago, a brilliant beacon of light blazed in the sky, shining brightly enough to be seen even in daytime for almost a month.
Tycho's star shines in gamma rays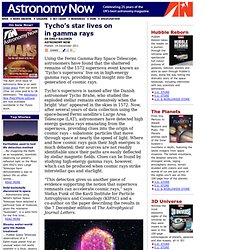 Tycho's star lives on in gamma rays
Tycho's star lives on in gamma rays DR EMILY BALDWINASTRONOMY NOWPosted: 14 December 2011 Using the Fermi Gamma-Ray Space Telescope, astronomers have found that the shattered remains of the 1572 supernova event known as 'Tycho's supernova' live on in high-energy gamma rays, providing vital insight into the generation of cosmic rays.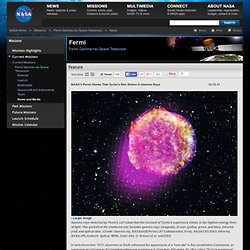 s Fermi Shows That Tycho's Star Shines in Gamma Rays
NASA's Fermi Shows That Tycho's Star Shines in Gamma Rays