Diaspora
DIASPORA* ALPHA
Diasnpora is run by pods. This is an example of a pod run by someone. You can run your own pod also. by electronics Oct 22
This site may list the some pods--but not all: http://podupti.me/

And here is a static list of pods: https://github.com/diaspora/diaspora/wiki/Community-supported-pods by electronics Oct 23
Diaspora is run by using pods. This pod is a rare example of a pod run Diaspora--the makers of Diaspora. You can run your own pod also--and this is the normal way of using this system. The other usual way of using Diaspora is to join someone else's pod. Pods produce a degree of privacy as the pod-networks are independent of each other and currently do not necessarily show up on search engine results. Anyone seems to be able to join your pod, but they have to find it first. Diaspora looks like it has also got a invite only system so this would mean that you could create a pod for your family and friends only for example. Diaspora might also be good for running a club--such as a sport, gamer or RPG club for example. With Diaspora, I would have a private pod for the club and a public pod as a marketing tool to promote the club. by electronics Oct 22
We're fully funded! Check out some of the other great projects on Kickstarter Diaspora - the privacy aware, personally controlled, do-it-all distributed open source social network We are four talented young programmers from NYU's Courant Institute trying to raise money so we can spend the summer building Diaspora; an open source personal web server that will put individuals in control of their data.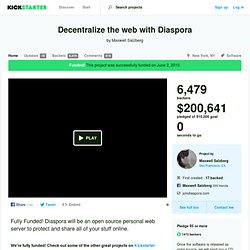 Diaspora (stylized DIASPORA* ) is a free personal web server [ 4 ] that implements a distributed social networking service. Installations of the software form nodes (termed "pods") which make up the distributed Diaspora social network . The project was founded by Dan Grippi, Maxwell Salzberg, Raphael Sofaer and Ilya Zhitomirskiy , students at New York University's Courant Institute of Mathematical Sciences . The group received donations in excess of $200,000 via Kickstarter . A consumer alpha version was released on November 23, 2010. [ edit ] Concept
Diaspora (software)
Hart said Zhitomirskiy's case is still at the active investigation stage by her office and that more information will be available when the case is closed. When the case is closed the information we have regarding the case is a matter of public records, Hart said in a telephone interview. During the active investigation stage that information isn't available for release.
Co-Founder Dies Nov-12-2011
Introduction Diaspora is run on a network of connected servers, or "pods." This document contains technical information for installing the necessary software to run a pod yourself, either for development, or as a new pod on the Diaspora network. If you just want to use Diaspora, you don't need to set up your own pod -- you can join an existing pod running the Diaspora software. The pod you join could be one run by a friend, your university, or the official pod, run by the project's founders, at joindiaspora.com .
Notes on Installing and Running Diaspora · diaspora/diaspora Wiki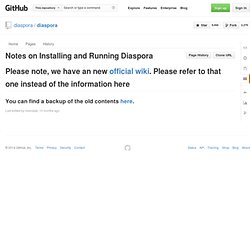 This is a list of pods (Diaspora servers) run by Diaspora community members. Remember, when you join one, you always log in to that site. But you can follow friends on any pod, including the pod run by the project founders at joindiaspora.com. This list is rather static. While it can be used as a reference, we recommend that when you are choosing which pod to sign up for, you also consider: Podupti.me - similar service to PodUp, run by the fine folks at diasp.org.