Alternative Currency
How to Start Your Own Private Currency - Derek Thompson - Business
It's not as complicated as it sounds. All you need is a system other people can understand and, most importantly, trust. Here's a nightmare scenario shared by some mainstream investors, goldbugs and Ron Paul devotees : The year is 2013. Inflation has the U.S. economy in a stranglehold. International investors are fleeing to the far corners of the globe.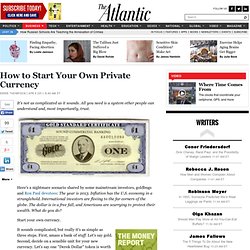 Alternative Currency Team PearlTree
Bitcoin shows the value of not depending on its maker - The Irish Times - Fri, Oct 07
Crom Alternative Currency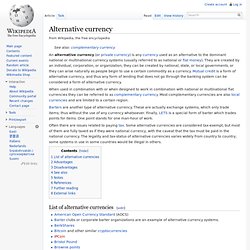 An alternative currency is any currency used as an alternative to the dominant national or multinational currency systems (usually referred to as national or fiat money ). Alternative currencies can be created by an individual, corporation, or organization, they can be created by national, state, or local governments, or they can arise naturally as people begin to use a certain commodity as a currency. Mutual credit is a form of alternative currency, and thus any form of lending that does not go through the banking system can be considered a form of alternative currency.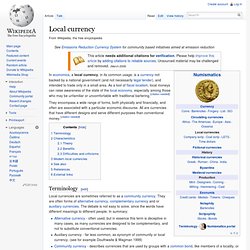 Local currency
See Emissions Reduction Currency System for community based initiatives aimed at emission reduction A Community Currency is often used as synonym for complementary currency , local currency, regional currency , alternative currency , auxiliary currencies , and private currencies . The debate is not easy to solve, since the words have different meanings to different people. All are currencies that have different designs and serve different purposes than conventional money. They depart from the notion that money is essentially a human invention and instrument to influence the relations between citizens and organizations.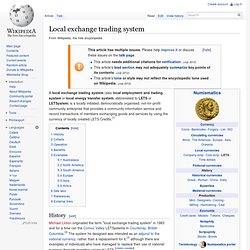 A local exchange trading system (also local employment and trading system or local energy transfer system ; abbreviated to LETS or LETSystem ) is a locally initiated, democratically organised, not-for-profit community enterprise that provides a community information service and record transactions of members exchanging goods and services by using the currency of locally created LETS Credits. [ 1 ] [ edit ] History Michael Linton originated the term "local exchange trading system" in 1983 and for a time ran the Comox Valley LETSystems in Courtenay, British Columbia . [ 2 ] The system he designed was intended as an adjunct to the national currency , rather than a replacement for it, [ 3 ] although there are examples of individuals who have managed to replace their use of national currency through inventive usage of LETS. [ citation needed ] LETS networks use interest -free local credit so direct swaps do not need to be made.
LETS Groups around the world - LETS-Linkup International LETS Directory
LETS.LOOK