Web
by Matthew James Taylor on 10 November 2007 When an HTML page contains a small amount of content, the footer can sometimes sit halfway up the page leaving a blank space underneath. This can look bad, particularly on a large screen. Web designers are often asked to push footers down to the bottom of the viewport, but it's not immediately obvious how this can be done.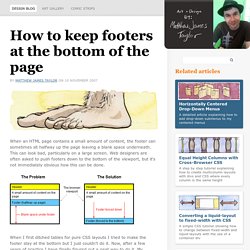 Plugins: Guide \ Setup | docs.oneall.com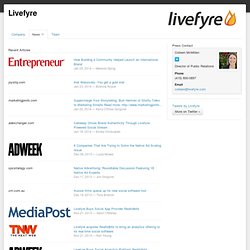 San Francisco-based blog commenting platform Livefyre announced today it has secured $15 million is Series C funding from investors including U.S. Venture Partners (USVP), ff Venture Capital, Cue Ball, Greycroft Partners and HillsVen Group, bringing the company's funding total to $20 million. BetaKit reported on Livefyre back in July 2012, when the company released a new version of its Livefyre Comments blog commenting product and built a new backend, hinting at the time that they would be releasing offerings that went beyond their original commenting platform. The race to own online comments continues: Livefyre, which provides commenting software that wraps in social media conversations for publishers, announced today that it has raised $15 million in a third round of funding.
Totem
s Blog - Web, iPhone, MonoTouch and Umbraco development
Online tool to create keys for view state validation and encryption
Ajax Bestiary » AJAX Development, News, Techniques & More
Webnovedad | Recursos de internet, aplicaciones, software y novedades
ASP.NET en Español
Accordionza - jQuery Plugin
Accordionza is a very flexible and lightweight jQuery (v1.4+) accordion plugin. Many features — Easily configure all effects and speed; pause on hover; autoplay and autorestart; collapseable captions; and more . Keyboard navigation — Optionally enable the cursor keys to browse an accordion.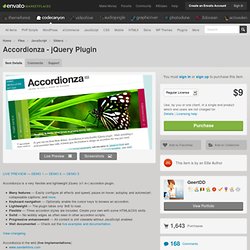 Author: Christian Bach Version: 2.0.5 ( changelog ) Licence: Dual licensed (just pick!)under MIT or GPL licenses. Please with sugar on top!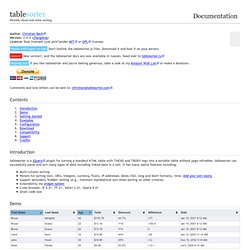 Plug-ins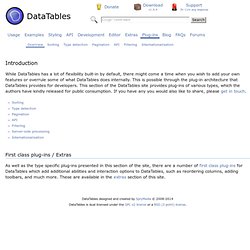 While DataTables has a lot of flexibility built-in by default, there might come a time when you wish to add your own features or overrule some of what DataTables does internally. This is possible through the plug-in architecture that DataTables provides for developers. This section of the DataTables site provides plug-ins of various types, which the authors have kindly released for public consumption.
Customer service software - feedback comparison.
Silverlight Understanding
danheberden | another blog about web stuff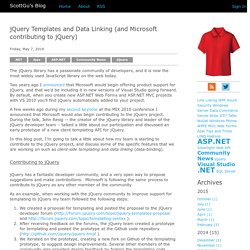 jQuery Templates and Data Linking (and Microsoft contributing to jQuery)
The jQuery library has a passionate community of developers, and it is now the most widely used JavaScript library on the web today. Two years ago I announced that Microsoft would begin offering product support for jQuery, and that we'd be including it in new versions of Visual Studio going forward. By default, when you create new ASP.NET Web Forms and ASP.NET MVC projects with VS 2010 you'll find jQuery automatically added to your project. A few weeks ago during my second keynote at the MIX 2010 conference I announced that Microsoft would also begin contributing to the jQuery project.
Home
jQuery Menu Style 16 (Goldenrod)
Features - Webs.com
Webs' drag and drop SiteBuilder requires no technical knowledge. Professionally designed templates do the work for you. Choose from a wide variety of templates that you can fully customize.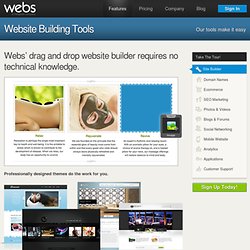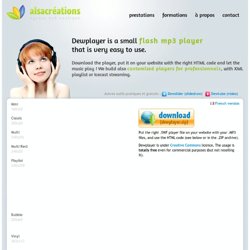 Instructions and HTML sample code 1 Download the all-in-one zip . 2 Upload the .swf player file you want to use on your website. 3 Copy-paste and configure the HTML code with the right MP3 filepath. <object type="application/x-shockwave-flash" data=" dewplayer.swf " width="200" height="20" id="dewplayer" name="dewplayer"> <param name="movie" value=" dewplayer.swf " /> <param name="flashvars" value="mp3= test.mp3 " /> <param name="wmode" value="transparent" /> </object> xHTML code generator The easier way is to use the XHTML code generator below.
Dewplayer lecteur mp3 en Flash - Alsacréations
CubeCart - Free & Commercial Online Shopping Cart Solutions
Performance & Security for Any Website | CloudFlare (Private Beta) | Home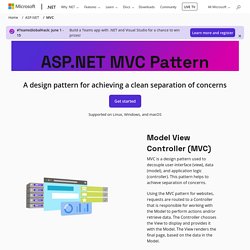 Home / MVC 5 Minute Video ASP.NET MVC gives you a powerful, patterns-based way to build dynamic websites that enables a clean separation of concerns and that gives you full control over markup for enjoyable, agile development.
CompleteGridView Videos