Klær
How to Easily Gather Fabric. How to Easily Gather Fabric: A Sewing Tutorial Years ago I learned a really easy way to gather fabric and I wanted to share it with you.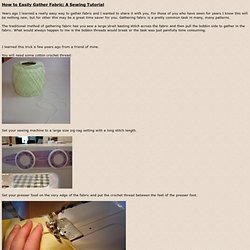 For those of you who have sewn for years I know this will be nothing new, but for other this may be a great time saver for you. Gertie's New Blog for Better Sewing. Sewing Tutorial: Dirndl style skirt. Tutorial: How I added a midriff band to my T-shirt. | The Snug Bug. Greetings Crab-eating Macaque with those super long tails, I can totally see why you prefer skirts instead of trousers.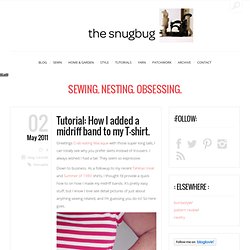 I always wished I had a tail. They seem so expressive. Knot Tote. Circle skirt calculator – for the drafting of full, half and 3/4 skirts. With bonus grading worksheet! | The Snug Bug. Special Sunday greetings you naked molerats!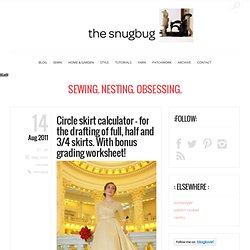 Since you're so naked, I thought you might want to make yourselves some nice little circle skirts. And perhaps, like me, you find yourself with little mole rat patterns just a touch on the small side. PR&P Tutorials, Week 5 - Fishtail Circle Skirt. I really hope you aren't going to kill me…but this is probably the one week out of the whole competition where I do not have a complete tutorial.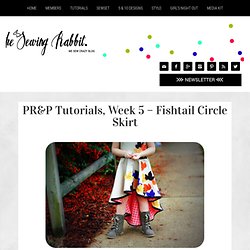 The dress was just so tailored to fit my daughter exactly, that in the time allotted to create the design, I just couldn't do it all. But there is hope! DIY Side Split Wrapped Bodice Dress - The Tutorial. The Shirt Skirt | Sew Like My Mom. July 28, 2010 I'm so excited to post about this!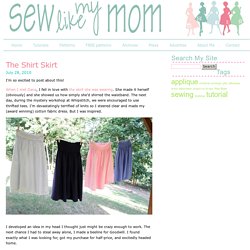 When I met Dana, I fell in love with the skirt she was wearing. Winter Shirt Dress. I taught a class a few weekends ago to the girls in my Relief Society on how to make my t-shirt dresses.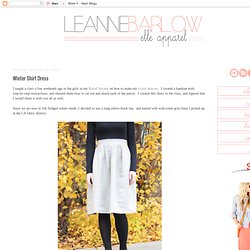 I created a handout with step-by-step instructions, and showed them how to cut out and attach each of the pieces. I created this dress in the class, and figured that I would share it with you all as well. Since we are now in full fledged winter mode, I decided to use a long-sleeve black top, and paired with with some gray linen I picked up at the LA fabric district. I added some ties to get a more fitted look around the waist.
I know I've posted some tutorials for these dresses before, but I think this one is a little more comprehensive. Lavender love. I stepped even further out of my comfort zone with this one.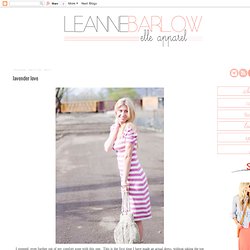 This is the first time I have made an actual dress, without taking the top from an existing shirt. (unless you count my Laurel project when I was 16. But lets be honest, my mom did all the work.) I used every single last scrap I had left of this awesome purpley-pink striped knit that I made my cardigan out of. The Pinwheel Skirt. Many of you have probably already seen this tutorial on Ucreate, but for those of you who haven't seen it, here is a tutorial for my Pinwheel Skirt.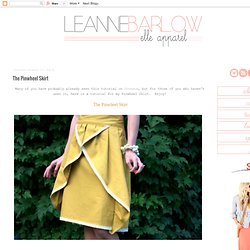 Enjoy! The Pinwheel Skirt Lets get started…. The Socialite Skirt. I promise this will be my last time using blue and white striped fabric for a while.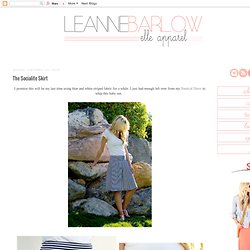 I just had enough left over from my Nautical Dress to whip this baby out. I decided to make the waistband on this skirt stretchy. It is just nice to be able to pull it on with a shirt and go. It's a lot more casual, which is nice for lounging around, soaking up the last few days of the summer sun. Summer of Skirts - The Cupcake Skirt. This skirt didn't turn out quite as planned.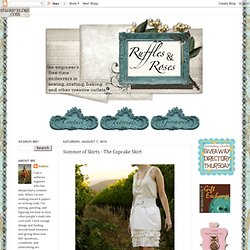 I didn't intend for it to be so... cupcake-y. And I guess by that I mean poofy. Part of the reason why the top is so puffy is because I used muslin for the whole thing. If you want to avoid that, get some cotton gauze for the top part or an equivalent fabric. Anyway, here it is - the cupcake skirt! Summer of Skirts - Waistband Bow Skirt tutorial. Here it is - finally! A swingy red skirt just in time for the 4th of July. Sorry it took so long to get this tutorial up - moving and internet problems delayed me. Tutorials. Various skirt tutorials. Flutterbydaisy Gallery - Handmade Dresses for broken dolls and ballerina butterflies.
Honestly WTF. DIY Turban. We've recently received several requests for a turban DIY and so, your wish is our command . . . Before you start, tie your hair in a bun or ponytail. Fold a large square scarf in half into a triangle. :::: OutsaPop Trashion recycled style DIY fashion eco sustainable refashion blog ::::: Weapon of choice. ...love Maegan: Old Hollywood Glamour ~ Lace Halter Bustier DIY Fashion+Home+Lifestyle. * Black Bustier* Black Lace* Black Satin Ribbon * Needle/Thread/Scissors * Line your lace up with your bustier cups… make sure the pretty edge of the lace in on the outside closest to your arms.
Decide how much lace you need by measuring or just eyeballing it and make sure to leave a little extra so the panels can overlap in the center. DIY Fendi Frill. Scarf Vest. Boho Maxi Dress: a tutorial. Here's looking at me kid. DIY Lace Shorts. CNC-Routed Belt Loom. Folk and Fairy: Over Hill and Under Hill. Make Your Own Sewing Pattern. Make a One-Piece Swimsuit.
---