Health
@ekivemark: Health and the Cloud...#Health Articles saved on Delicious by @ekivemark |
How Being a Doctor Became the Most Miserable Profession
Health innovators across the country are transforming the health industry and we think it is time that the nation hears you. In the past few weeks, we've seen tremendous excitement around HDI Forum III , with many organizations 'throwing their hat into the ring,' and applying to showcase at the Health Datapalooza. With the deadline around the corner and many applications still rolling in, we wanted to make sure everyone has an opportunity to apply. That's why we've extended the Health Datapalooza application deadline to April 6th! Apply today.
Health Datapalooza Deadline Extended to April 6!Health 2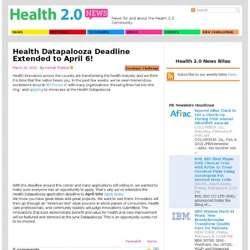 Self-Service HealthCare and Supermarket Checkouts #HIT #Health
March 15, 2012, 5:45 pm / Lygeia Ricciardi / Director, Office of Consumer eHealth, ONC Image provided courtesy of Rob Cottingham The health care system is going digital at a fast clip. In the last two years, the number of hospitals using electronic health records has more than doubled to 35%—and the majority of remaining hospitals say they have near-term plans to do so. While patient or consumer use of digital tools for health, such as patient portals and personal health records (PHRs), generally lag behind, it is catching up, especially when you also consider the use of "non-traditional" tools, such as mHealth and social media. The proportion of American consumers using mobile phones for health has more than doubled in a single year to 26%, and social media use for health has more than tripled since 2007, reaching roughly a third of the country.
Protecting Privacy of Health Information and Building Trust as Mobile and Online Health Evolve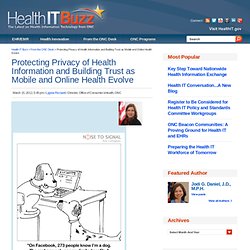 Health Discovery Corporation Debuts MelApp 2.0 for iPhone
Mobile supports 'patient activation' of clinical decision support | Patient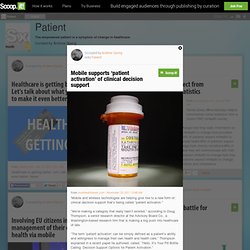 From a HIStalk interview with Regina Holliday (@ReginaHolliday), founder of #TheWalkingGallery Q: Putting patients at the center of healthcare is, unfortunately, a big change. For those overwhelmed by the long-term vision, what would be some short-term goals you would settle for? "I often look at the intersection of health and art. That's one of my focuses.
Tickets HealthCa.mp/LA takes place on Tuesday 1 November, 2011 Thanks to the generous support of Kaiser Permanente as our Foundation Sponsor. Join us at the Pasadena Convention Center for one of the most vibrant events in the Los Angeles Health Care calendar. HealthCamp is different from other conferences.
mp Los Angeles | Tickets
Peter Thiel and Max Levchin are busy guys. Thiel, aside from being on the Board of Directors for companies like Palantir Technologies, Geni, and Asana, an early investor and former board member at Facebook, and also happens to be founder and president of hedge fund Clarium Capital as well as Managing Partner of his VC firm, Founder's Fund. Levchin was founder and CEO of Slide (which was acquired by Google), which he recently left when Google deadpooled all but one of Slide's products. Thiel and Levchin both famously steered PayPal (which they co-founded) through tricky waters during the crazy dotcom days, building it into the company we know today. Now, Thiel and Levchin are back working together, but this time on a different enterprise: A book. Along with Gary Kasparov, the two have written a book, called "The Blueprint: Reviving Innovation, Rediscovering Risk, and Rescuing the Free Market", which is expected to be published in March 2012.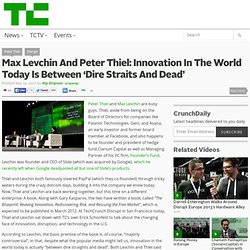 Max Levchin And Peter Thiel: Innovation In The World Today Is Between 'Dire Straits And Dead'
Share photos and videos on Twitter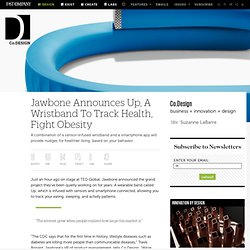 Just an hour ago on stage at TED Global, Jawbone announced the grand project they've been quietly working on for years: A wearable band called Up, which is infused with sensors and smartphone connected, allowing you to track your eating, sleeping, and activity patterns. "The interest grew when people realized how large this market is." "The CDC says that for the first time in history, lifestyle diseases such as diabetes are killing more people than communicable diseases," Travis Bogard, Jawbone's VP of product management, tells Co.Design. "We're trying to solve that problem."
Jawbone Announces Up, A Wristband To Track Health, Fight Obesity | Co.Design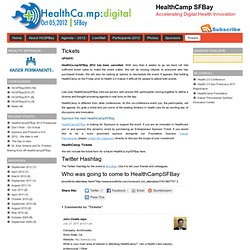 Tickets HealthCa.mp/SFBay 2012 has been cancelled. With less than 4 weeks to go we have not had sufficient ticket sales to make the event viable. We will be issuing refunds to everyone who has purchased tickets.
mp SFBay | Tickets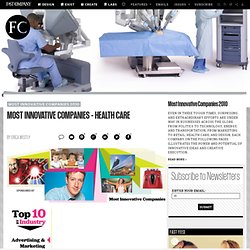 Most Innovative Companies - Health Care
by Erica Westly (additional reporting by Ellen McGirt and Chuck Salter) Image courtesy of Intuitive Surgical Its Healthymagination program is investing $6 billion over the next several years in mobile scanners, digital information, and other innovations in health care. Top 50 No. 19 2. PatientsLikeMe
Connected health isn't about the devices – it must align people and providers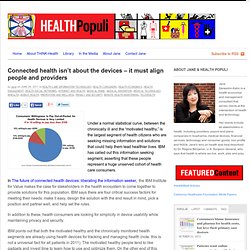 Under a normal statistical curve, between the chronically ill and the "motivated healthy," is the largest segment of health citizens who are seeking missing information and solutions that could help them lead healthier lives. IBM has called out this information seeking segment, asserting that these people represent a huge unserved cohort of health care consumers. In The future of connected health devices: liberating the information seeker, the IBM Institute for Value makes the case for stakeholders in the health ecosystem to come together to provide solutions for this population. IBM says there are four critical success factors for meeting their needs: make it easy, design the solution with the end result in mind, pick a position and partner well, and help set the rules. In addition to these, health consumers are looking for simplicity in device usability while maintaining privacy and security.
E-health advocacy groups decries government secrecy - e-health - CIO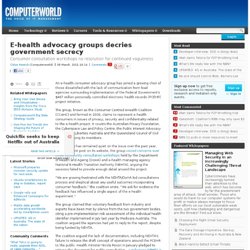 An e-health consumer advocacy group has joined a growing choir of those dissatisfied with the lack of communication from lead agencies surrounding implementation of the Federal Government's $467 million personally controlled electronic health records (PCEHR) project initiative. The group, known as the Consumer Centred eHealth Coalition (CCeHC) and formed in 2009, claims to represent e-health consumers in issues of privacy, security and confidentiality related to the e-health project. It counts the Australian Privacy Foundation, the Cyberspace Law and Policy Centre, the Public Interest Advocacy Centre, Civil Liberties Australia and the Queensland Council of Civil Liberties among its members.
DrChrono Makes The iPad A Doctor's Best Friend In The Exam Room
As medical records move online, doctors are increasingly bringing laptops into the exam room to take notes, write prescriptions and more. But laptops can be cumbersome, and the iPad has emerged as a popular device for medical professionals. In fact, one out of every five doctors in a private practice owns an iPad. Enter DrChrono, a Y Combinator-backed startup that produces an iPad app and SaaS for doctors. The free iPad app allows doctors to schedule patient appointments, write prescriptions and send them to pharmacies, enable reminders, take clinical notes, access lab results, and input electronic health records. The electronic medical records element is key because the Obama administration is currently offering strong incentives for doctors to start moving their health records online.
Lygeia Ricciardi ( @Lygeia ) wrote me to let me know that the word is out. She's the new Senior Advisor for Consumer e-Health, in the Office of the National Coordinator for Health Information Technology . What does the Senior Advisor for Consumer e-Health do, you ask? Here's what Lygeia told me – the Senior Advisor for Consumer e-Health is : Responsible for developing and managing ONC's national consumer e-health program.
Office of the National Coordinator has a new Senior Advisor for Consumer e-Health, and it's @Lygeia!
We just talked to Nike last week about its Nike+ GPS app for the iPhone, and there's another update to the already full-featured app. A new feature called Tag brings competition into Nike+ GPS. After you finish a run in the app, you can press the Tag button to invite as many of your friends or contacts to the game as you want; each user invited has to complete a certain goal within three days. The goal can be set for distance, time or the last person to actually go running.
Nike+ GPS app adds new Tag feature to foster competition between friends
Potential Data Breach and Extortion at Express Scripts
The WSJ Health Blogs reports about a potential data breach at Express Scripts, one of the largest pharmacy benefit management companies in North America. More from Express Scripts on the Facts, FAQs and Other Resources. The potential data breach came to Express Scripts attention after having received an anonymous letter attempting to extort money from the company by threatening the expose millions of patient records.
Sermo - Know more. Know earlier.
The Health Care Blog: HIPAA's broken promises
Medicine 2.0 Congress