cultivating mother earth
Get flash to fully experience Pearltrees
Some people have a wealth of plant seeds left over at the end of the gardening season. Some folks can never find seed particular garden plant they want at the beginning of the season. It's a match made in heaven. Whether you have seeds to trade or a seed wish list that's gone unfulfilled, Seed Exchanges are worth a look.
Recommended this month Have a look at our top rated edible plants and our top rated medicinal plants We've recently added 4 new sections: Edible Trees and Shrubs Hardy in temperate zones. Checklist of plants suitable for hedging and windbreaks.
One of the puzzles I have been pondering the last three years of my grain operation is how to affordably and sustainably fertilize and manage an organic crop. Non-organic seed and fertilizer are cheaper, you can use chemicals to control weeds and pests, and the record-keeping is simpler. I am convinced, though, that petroleum based fertilizers are unsustainable for society and that endless use of chemicals is destroying the soil and the environment. My first year of farming grain I didn't have time to do anything but buy fertilizer so I bought the amount the rep suggested. I got a pretty good crop but the cost was astronomical and certainly not feasible for the selling price of the finished grain.
Feed the soil to feed the plants. By Doreen G. Howard June/July 2003 It's a fundamental axiom of organic gardening and farming, and once you understand what "feeding the soil" means, you'll also understand why organic methods, and no-till techniques in particular, work so well.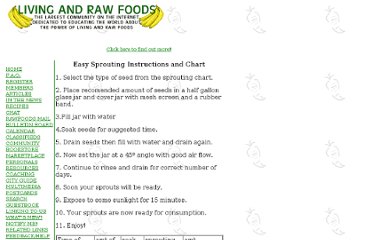 Easy Sprouting Instructions and Chart 1. Select the type of seed from the sprouting chart. 2.