Social media B2C
UK brands not responding to social media queries, claims research - PR and Public Relations news - PR Week. As part of the study by internet firm Auros, the UK's top 25 retailers were measured on their responsiveness level to customers across Facebook, Twitter, YouTube and branded blogs, with each being allocated a score out of 100.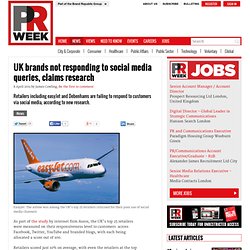 Retailers scored just 10% on average, with even the retailers at the top of the table – Thomas Cook (32%), easJet (24%) and Debenhams (22%) – failing to score anywhere near top marks. Only 52% of retailers have a blog on their website and 12% a YouTube channel. As with Twitter and Facebook, the research claims the retailers are using social networks as marketing channels, rather than using them to properly engage and enter into dialogue with both existing and prospective customers.
The research also found that responsiveness on YouTube and on company blogs was low, with none of the retailers responding to questions posted in the comments section of blog posts or videos. Notes on the 'next generation check-in' experience from Qantas. It was launched at Sydney's Kingsford Smith Airport (SYD) about a month ago.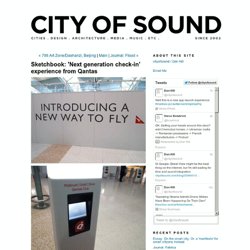 I was there on the day before launch, heading up to Brisbane, and noticed the newly installed check-in poles under cover. On the following day I was there again, horribly early to head to Melbourne, and the system was live. I'd been sent a new smart card and set of luggage tags a week before. The tags, and what looked like the packaging they arrived in, are designed by one of Australia's finest designers Marc Newson , and contain sensors that 'lock' my identity to the bags, meaning they the bags can just be dropped off rather than manually checked-in.
The tags are robust, and with pleasingly firm, rubbery tactility, like heavy-ish discs and with a simple loop to attach to bag handles. 8 Social Media Treasures We Learned from Old Spice. Posted on 16.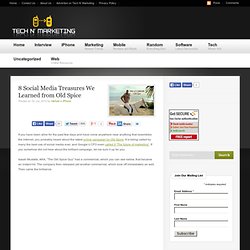 Jul, 2010 by hilzfuld in iPhone inShare38 If you have been alive for the past few days and have come anywhere near anything that resembles the internet, you probably heard about the latest online campaign by Old Spice. It is being called by many the best use of social media ever, and Google's CFO even called it "The future of marketing". If you somehow did not hear about the brilliant campaign, let me sum it up for you.
---