Eco-villes
Publication des résultats - novembre 2011 Pour un urbanisme plus durable et mieux concerté "De l'écoquartier à la ville durable, analyse des pratiques de la concertation" est un projet réalisé grâce au soutien de la Caisse des Dépôts et en partenariat avec Gares & Connexions, EDF et Ciments Calcia.
Ecoquartiers
Herbie - Your Local Greengrocer | www.merci.org.uk
Herbie, was set up by MERCi to provide affordable, fresh fruit and vegetables to residents living in areas of East Manchester with poor access to fresh foods. Herbie is a mobile greengrocer and customers can walk on board and choose from a good range of affordable fresh produce. We also supply boxes of fruit to schools and projects, and work closely with sheltered housing, churches, health clinics and resident groups to ensure that we reach as many people in our local community as possible.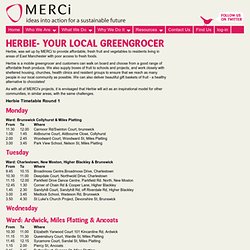 écoconso - Le retour du « Faire soi-même »
Préférer cuisiner plutôt que consommer des plats préparés aux additifs divers, jardiner et faire son potager, utiliser des cosméiques, des produits d'entretien et des peintures simples et faits maison, favoriser la réparation, le troc, le don et l'échange de services... Autant de comportements d'éco-consommateurs qui s'inscrivent dans un mouvement bien plus large en plein boom : celui du « faire soi-même » ou Do It Yourself en anglais (DIY). Une mode qui s'installe
"Communities are more important than individuals, and probably more important than states and nations": An interview with Bill McKibben
11 Oct 2011 "Communities are more important than individuals, and probably more important than states and nations": An interview with Bill McKibben Last week Bill McKibben was in town, and I was lucky enough to get to interview him for half an hour before his talk to a packed St. John's Church in Totnes (which Jay Tompt reflected on here ). I had asked for some questions for Bill on Twitter, and apart from the frankly bizarre "will I ever play the piano again?"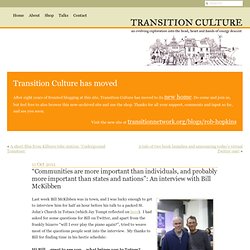 La ville : la plus grande réserve d'économies d'énergie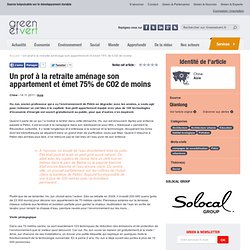 Chine : Un prof à la retraite aménage son appartement et émet 75% de CO2 de moins
Chine / / Asie Hu Jun, ancien professeur qui a vu l'environnement de Pékin se dégrader avec les années, a voulu agir pour redonner un ciel bleu à la capitale. Son petit appartement équipé avec plus de 100 technologies d'économie d'énergie est ouvert gratuitement au public, pour que d'autres s'en inspirent. Quand il parle de ce qui l'a motivé à rentrer dans cette démarche, Hu Jun est émouvant. Après une enfance passée à Pékin, il est envoyé à la campagne dans son adolescence pour être « rééduqué » pendant la Révolution culturelle. Il y reste longtemps et s'intéresse à la science et la technologie, récupérant les livres dont les bibliothèques se séparent dans un grand élan de purification voulu par Mao.
Garbage is a Terrible Thing to Waste: How to Reach Zero Waste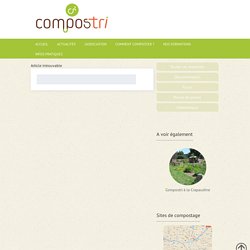 Le projet a pour objet le développement du compostage partagé, ainsi que la valorisation du compostage en général et plus particulièrement en milieu urbain. L'idée principale de est de favoriser la par quartier, immeuble, groupe d'immeubles, structure collective, suivant les exemples vus en Belgique et en Vendée. Compostri a également un rôle de du public. Depuis 2011, l'association a un espace dédié au compostage, monté sur l'exemple du centre de démonstration « Hof ter Winkelen » à Londerzeel près de Bruxelles. L'espace se situe sur le site de la Crapaudine, en partenariat avec l' association des jardins de la Crapaudine et le service des espaces verts de la Ville de Nantes ( SEVE ). Cet espace s'adresse aux scolaires, et accueille également des .
- Le projet Compostri
Grocery Stores on Wheels - Neighborhoods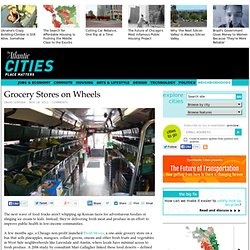 The next wave of food trucks aren't whipping up Korean tacos for adventurous foodies or slinging ice cream to kids. Instead, they're delivering fresh meat and produce in an effort to improve public health in low-income communities. A few months ago, a Chicago non-profit launched Fresh Moves , a one-aisle grocery store on a bus that sells pineapples, mangoes, collard greens, onions and other fresh fruits and vegetables in West Side neighborhoods like Lawndale and Austin, where locals have minimal access to fresh produce. A 2006 study by consultant Mari Gallagher linked these food deserts – defined by the USDA as a census tract more than a mile from a grocery store – to increased diabetes and other diet-related maladies , as well as premature death.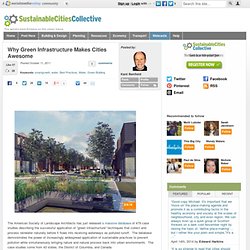 The American Society of Landscape Architects has just released a massive database of 479 case studies describing the successful application of "green infrastructure" techniques that collect and process rainwater naturally before it flows into receiving waterways as polluted runoff. The database demonstrates the power of increasingly widespread application of sustainable practices to prevent pollution while simultaneously bringing nature and natural process back into urban environments. The case studies come from 43 states, the District of Columbia, and Canada. This promises to be a great resource: One of the most pressing environmental challenges facing cities and suburbs in the US is the impact of polluted stormwater runoff from developed land – highways, parking lots, rooftops and other impermeable surfaces – into our rivers, lakes, and coastal waters.
Why Green Infrastructure Makes Cities Awesome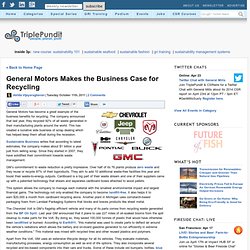 General Motors Makes the Business Case for Recycling
General Motors has become a great example of the business benefits for recycling. The company announced that last year, they recycled 92% of all waste generated in their manufacturing plants around the world. This has created a lucrative side business of scrap dealing which has helped keep them afloat during the recession. Sustainable Business writes that according to latest estimates, the company makes about $1 billion a year just from selling scrap. Since they started in 2007, they have solidified their commitment towards waste management.
Experiment in (e)co-habitation gets the green light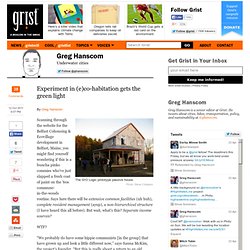 The G•O Logic prototype passive house. Photo: Steve Chiasson Scanning through the website for the Belfast Cohousing & Ecovillage development in Belfast, Maine, you might find yourself wondering if this is a buncha pinko commies who've just slapped a fresh coat of paint on the '60s commune-in-the-woods routine. Says here there will be extensive common facilities (uh huh), complete resident management (ayup), a non-hierarchical structure (I have heard this all before). But wait, what's this? Separate income sources? "We probably do have some hippie communists [in the group] that have grown up and look a little different now," says Sanna McKim, the project's founder.
We've seen solar energy used to power a number of innovations featured on our virtual pages, including a UK-based micro-cinema on wheels. Now we've discovered the Lapin Kulta Solar Kitchen Restaurant , a pop-up venture which uses only the energy of the sun to cook food. Following its launch at Milan Design Week in April, the Lapin Kulta Solar Kitchen Restaurant — created in partnership with iconic Finnish beer brand Lapin Kulta — subsequently traveled through Europe on its way to Helsinki, where it was open for 10 days in August.
Pop-up restaurant uses only solar energy for cooking