Ehoffserf
Potthapada Sutta: About Potthapada. I have heard that on one occasion the Blessed One was staying near Savatthi in Jeta's Grove, Anathapindika's monastery.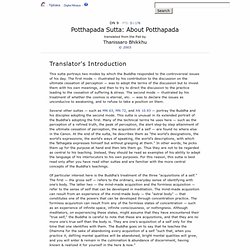 Now on that occasion Potthapada the wanderer, together with a large following of about 300 wanderers, had taken up residence in the debating hall near the Tinduka tree in the single-pavilion park of Queen Mallika. Then the Blessed One, early in the morning, taking his robes & bowl, entered Savatthi for alms. Then the thought occurred to him, "While it's still too early to go into Savatthi for alms, why don't I go to the debating hall near the Tinduka tree in the single-pavilion park of Queen Mallika to see Potthapada the wanderer? " So he went to the debating hall near the Tinduka tree in the single-pavilion park of Queen Mallika. The Time is Now. Springwater Center: Meditation at Springwater Center. The following words, adapted from a talk given by Toni Packer on August 30, 1998, convey the spirit of meditation at Springwater Center.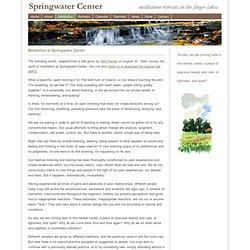 You can also listen to or download the original talk (MP3). What a beautiful, quiet morning it is! The faint hum of insects, a cool breeze touching the skin. Joan Tollifson: The Simplicity of What Is. Qigong-v1. Embeddable graphics for your website — The Domino Project. This page contains graphics to display on your website or blog, downloadable materials in PDF format, and special video content.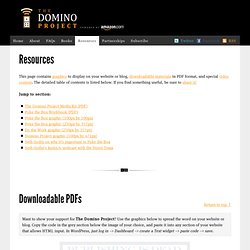 The detailed table of contents is listed below. If you find something useful, be sure to share it! Jump to section: Tru Journal - Online Inspirational Social Community Social Network. What in the world could a common office tool used to create holes in paper have to do with synchronicity?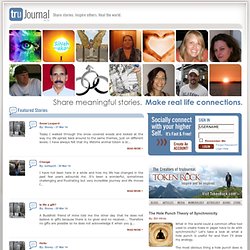 Let's take a look at what a hole punch is useful for and then I'll draw my analogy. The most obvious thing a hole punch does is punch holes. That would seem obvious right? But why do we punch those holes? Token Rock - Inspiration for life. AUDIO SAMPLES. Track 1: Om_Namah_Shivaya.wma (1:03) A classic Tantric devotional mantra to honor the power of change.
From the album Shakti Yoga . DharmaDots | Daily Dharma Aggregator and Buddhist News Feed Hub. BuddhismA2Z. Accessing Buddhism. The Secular Buddhist :: Home. Five Remedies for Stormy Emotions. Helpful Tips for Turbulent Times Working with emotions from the Mahayana Buddhist perspective is a lot like composting.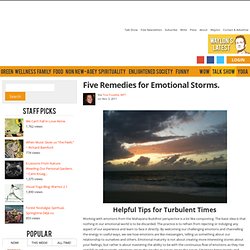 The basic idea is that nothing in our emotional world is to be discarded. The practice is to refrain from rejecting or indulging any aspect of our experience and learn to face it directly. Thanks for Joining Gabrielle's Mailing List. Click the link below for your FREE meditation: (to download, right click and choose 'Save Link As')Relationship Meditation Now, Invite your friends to join the SPIRIT JUNKIE movement!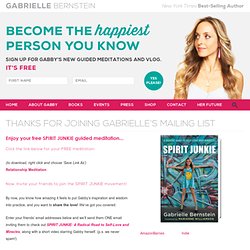 By now, you know how amazing it feels to put Gabby's inspiration and wisdom into practice, and you want to share the love! Gabrielle Bernstein – Author, Motivational Speaker, Spiritual Guru. Sounds True Author - Gangaji. Gangaji is an American-born spiritual teacher dedicated to sharing the path of freedom through simple and direct self-inquiry, as taught by the legendary sage Sri Ramana Maharshi of India.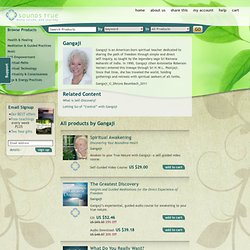 In 1990, Gangaji (then Antoinette Roberson Varner) entered this lineage through Sri H.W.L. Poonjaji. Since that time, she has traveled the world, holding gatherings and retreats with spiritual seekers of all faiths. Gangaji_©_Dhruva Baumbach_2011. An Introduction to Focusing. An Introduction to Focusing Susan Jordan A good many people have heard of Focusing without knowing exactly what it is.
Until recently there were only a handful of Focusing teachers in this country and a few groups practising Focusing together, but in the last few years Focusing has begun to grow as people have realised how much it has to offer. It is gentle, creative and often profound, and is a safe way of being with any experience, even the most disturbed and disturbing. Focusing. Site Map.
Pearltrees videos
Getting started.
---