ART Projects
20 Creative Ways To Use Embroidery Hoops. 34 Things You Can Improve With A Sharpie. DIY Découpage Floral Bag. When H&M asked us to DIY a boho-inspired item for their summer issue, découpage was the first thing that came to mind.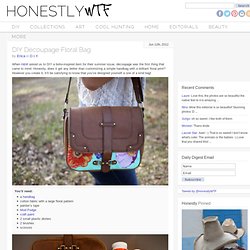 Honestly, does it get any better than customizing a simple handbag with a brilliant floral print? However you create it, it'll be satisfying to know that you've designed yourself a one of a kind bag! You'll need:a handbagcotton fabric with a large floral patternpainter's tapeMod Podgecraft paint2 small plastic dishes2 brushesscissors. 46 Ideas For DIY Jewelry You'll Actually Want To Wear. 46 Awesome String-Light DIYs For Any Occasion. A Super Easy DIY Beaded Leather Bracelet. DIY Necklace Tutorials. DIY Woven Chain Collar Necklace. Earlier this month Lauren and I escaped city life with our dear friend Grace, of Stripes & Sequins, for a weekend chock-full of sun and DIY.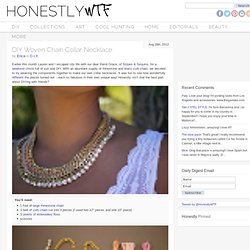 With an abundant supply of rhinestone and brass curb chain, we decided to try weaving the components together to make our own collar necklaces. It was fun to see how wonderfully different the pieces turned out - each so fabulous in their own unique way! Honestly, isn't that the best part about DIYing with friends? 24 Cute And Incredibly Useful Gift Wrap DIYs. DIY Chan Luu Bracelet « Made2Style.
My goal this holiday season was to really try my best to make some homemade gifts.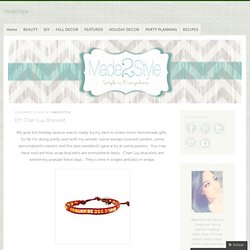 So far I'm doing pretty well with my wreath, some burlap covered candles, some personalized coasters and this past weekend I gave a try at some jewelry. You may have noticed how wrap bracelets are everywhere lately. Chan Luu bracelets are extremely popular these days. 25 DIY Coffee Cup Cozy Tutorials And Patterns. Free Coffee Cozy Knitting or Crochet Pattern Tutorial (via thesittingtree) Winter is coming so probably it's time to make your home more cozy and warm.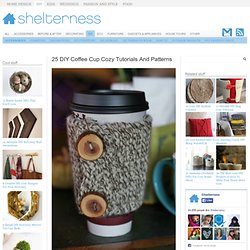 I don't mean to fire up your radiators but to add some details to your decor that will make it look more cozy. For example you can start with dressing up your cups into some cozy warmers. We've gathered for you a bunch of tutorials and patterns that will help you to knit your own mug cozies. How to make your own Farm Fountain. MAGAZINE ENVELOPES. 18K+ Well I got this idea from our friend Nina.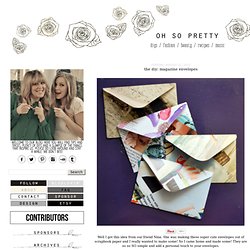 She was making these super cute envelopes out of scrapbook paper and I really wanted to make some! So I came home and made some! 25 more ways of turning pallets into unique pieces of furniture. A while ago we showed you an article called "21 ways of turning pallets into unique pieces of furniture" where we enumerated a series of original items you could create using pallets.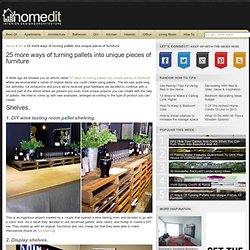 The list was quite long but definitely not exhaustive and since we've received good feedback we decided to continue with a second part of the article where we present you even more unique projects you can create with the help of pallets. We tried to come up with new examples, arranged according to the type of product you can create. Shelves. DIY Elbow Patch. While perusing Pinterest one evening, I came across an intriguing tutorial on the wonderful art of needle felting.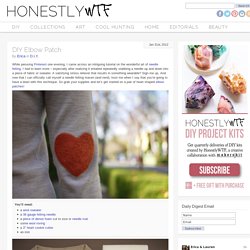 I had to learn more – especially after realizing it entailed repeatedly stabbing a needle up and down into a piece of fabric or sweater. A satisfying stress reliever that results in something wearable? Sign me up. DIY Dotted Tissue Paper Lantern. Looking for a fun way to jazz up regular paper lanterns?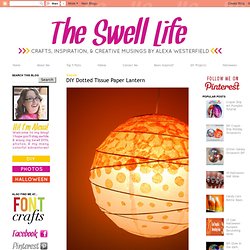 Break out the Collage Pauge™ and some tissue paper and you have a totally new, fresh look for your room! Here's how you do it. It's soooo easy! Sewing 101: making a pouf. Add a burst of color to your room with this crafty pouf!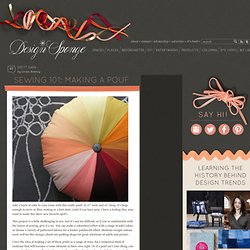 At 17" wide and 10" deep, it's large enough to serve as floor seating or a foot stool. (And if you have pets, I have a feeling they may want to make this their new favorite spot!) This project is a little challenging to sew, but it's not too difficult, so if you're comfortable with the basics of sewing, give it a try. Hot Air Balloon Paper Lantern. Hot Air Balloon Paper Lantern My baby boy is almost here!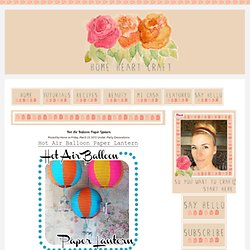 I am so excited to meet him and frankly I am sooooo over being pregnant. We plan on having Lou and the baby share a room while they are little and I currently love how Lou's room is decorated but fact is... it is a little girly. The Technique Zone: Acrylic Paint Transfer. Supplies needed: Acrylic dabbers, photocopy of an image, water spritzer bottle, paintbrush, card stock, craft sheet and heat tool (optional) Take the lid off the dabbers and brush the paint onto the card stock, ensure you get a good coverage Take your photocopied image ( remember that you will get a reverse of the image, so don't use bold words), flip it over and place it in the acrylic. Lightly press it down making sure it's smooth and not wrinkled Leave to air dry for at least 15 minutes and then if you wish give it a blast with the heat tool. Guest Post: Inspired by Valerie Boy.
Today we have our first guest post from a cute and famous blog, theletter4! They are my idols because they have been on the Martha Stewart show... always a dream. I'll let them tell a little more about themselves below but here is a link and a few photos from their inspiration, Valerie Boy. I'm so honored to introduce myself here on Hello Hydranga!!! We are The Letter 4. DIY Sharpie Tie Die. I love this Sharpie tie die DIY from The Art Girl Jackie blog! She did it with her adorable daughter and I think it's a fun inspiration for this Spring and upcoming music festival season. Use this technique to spruce up your ratty t-shirts or maybe a pair of of cut off shorts.
---