Routines
la bellezza è doloroso "Beauty is Painful"
A work in progress - exercises
Fresh. Fit. Fashionable. - Workouts
I'M GONNA MAKE A CH
by Lee Labrada Jan 03, 2011 Watch The Video - 04:23 Don't forget to watch the other overview videos before starting your 12-week transformation!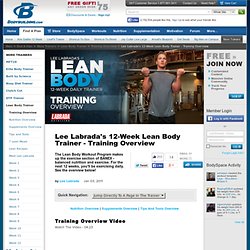 Lee Labrada's 12 Week Lean Body Trainer - Training Overview
Search
WOMENS HEALTH PDF DOWNLOADS
Illustrations by Shannon Orcutt Who needs a gym when there's the living room floor? Bodyweight exercises are a simple, effective way to improve balance, flexibility, and strength without machinery or extra equipment. From legs and shoulders to chest and abs, we've covered every part of the body that can get stronger with body resistance alone. Full Body 1.