iPad Resources
iPad workflow with Edmodo
Workflow seems to be a continuous topic for discussion with the introduction of iPads into the classroom. How best to distribute work to students, receive it back once they have completed it and then mark it and return it to them using only iPads? Can it really be that difficult? It certainly isn't overly straightforward. Dropbox, Evernote and several alternatives are great, but they don't offer the personalisation of a tool like Edmodo.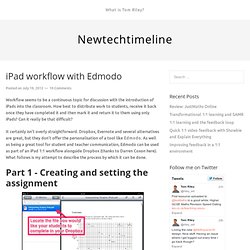 Cooperative learning and inquiry-based teaching yield big dividends in the classroom. And now we have the research to prove it. Credit: Thomas Reis Today's students will enter a job market that values skills and abilities far different from the traditional workplace talents that so ably served their parents and grandparents. They must be able to crisply collect, synthesize, and analyze information, then conduct targeted research and work with others to employ that newfound knowledge.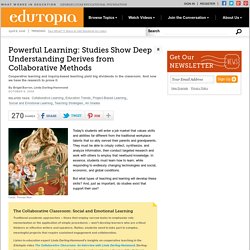 Dashcode Tutorial: Linking Buttons To Webpages
Send your iPad Pages Docs to Your Google Docs Account | Tutorial Videos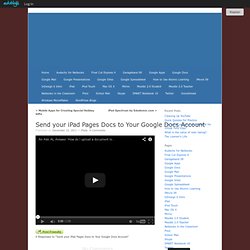 « Mobile Apps for Creating Special Holiday Gifts iPad Spectrum by Edudemic.com » Send your iPad Pages Docs to Your Google Docs Account Published on December 15, 2011 in iPads. 0 Comments 0 Responses to "Send your iPad Pages Docs to Your Google Docs Account"
Teachers who use iPad are always looking for simple ways to allow students to upload their work to a cloud drive with plenty of storage space. Dav-Pocket is a surprisingly simple WebDAV server which allows you access to Google Docs. When using Pages, Keynote & Numbers If your account has been successfully created, you will see the link "Authorize DAV-pocket service" in the first page.
DAV Pocket - upload from iPad to Google Docs | philgreg.tv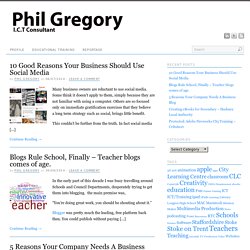 Jackpot: iPad Lessons
iPad for Teaching & Learning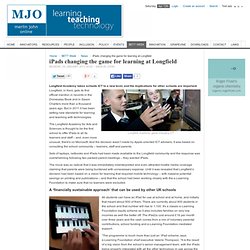 iPads changing the game for learning at Longfield
Longfield Academy takes schools ICT to a new level, and the implications for other schools are important Longfield Academy: game-changing ICT Longfield, in Kent, gets its first official mention in records in the Domesday Book and in Saxon Charters more than a thousand years ago. But in 2011 it has been setting new standards for learning and teaching with technologies. The Longfield Academy for Arts and Sciences is thought to be the first school to offer iPads to all its learners and staff – and, even more unusual, there's no Microsoft. And the decision wasn't made by Apple-oriented ICT advisers.
The History 2.0 Classroom: Paperless Research Paper X iPads
Ed.VoiceThread
Diigo is a powerful information capturing, storing, recalling and sharing tool. Here are just a few of the possibilities with Diigo: Save important websites and access them on any computer.Categorize websites by titles, notes, keyword tags, lists and groups.Search through bookmarks to quickly find desired information.Save a screenshot of a website and see how it has changed over time.Annotate websites with highlighting or virtual "sticky notes."View any annotations made by others on any website visited.Share websites with groups or the entire Diigo social network.Comment on the bookmarks of others or solicit comments to your shared bookmarks.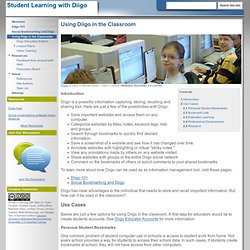 Using Diigo in the Classroom - Student Learning with Diigo
By Derek Bruff Last fall, for my first-year writing seminar on the history and mathematics of cryptography, I posted my students' expository-writing essays on our course blog. The assignment had asked students to describe a particular code or cipher that we had not already discussed—how it came to be, how it works, how to crack it, who used it. They described more than a dozen codes and ciphers. It seemed a shame that I might be the only one to read such interesting content, so I asked the students to read and comment on two papers of their peers. The course blog provided an ideal platform for that task.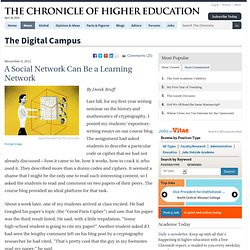 A Social Network Can Be a Learning Network - Online Learning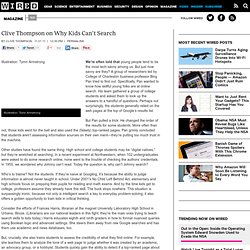 Illustration: Tymn Armstrong We're often told that young people tend to be the most tech-savvy among us. But just how savvy are they?
Writing Prompts seems to have been a recurring conversation on twitter recently so I wanted to investigate what was available for teachers. I was surprised to see just how many apps designed for writing prompts there were. What is nice, is how many of these can be used for all grades. I really like the interface of some of these and I think your kids will too. Find a couple that will suit your students and your teaching style. Please list any more that you know of in the comments.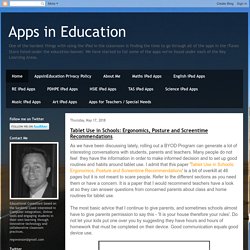 <div class="greet_block wpgb_cornered"><div class="greet_text"><div class="greet_image"><a href="http://feeds.feedburner.com/speedofcreativity/main" rel="nofollow"><img src="http://www.speedofcreativity.org/wp-content/plugins/wp-greet-box/images/rss_icon.png" alt="WP Greet Box icon"/></a></div>Hello there! If you are new here, you might want to <a href="http://feeds.feedburner.com/speedofcreativity/main" rel="nofollow"><strong>subscribe to the RSS feed</strong></a> for updates on this topic.<div style="clear:both"></div></div></div>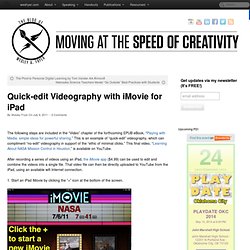 Guide to iMovie