Oficinas
Macro Design on Vimeo
Legwork Reel 2011 on Vimeo
Cinemagia on Vimeo
Australi Image Like Minded Studio
DeutschexFernsehlotteriexPaperxWorld Follow the paper plane into Sehsucht's latest origami-style world of helping hands and improved communities. We produced the 30 sec.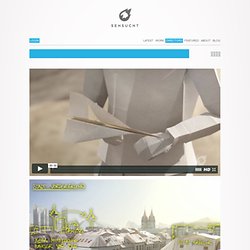 Deutsche Fernsehlotterie Paper World « SEHSUCHT™
Work « SEHSUCHT™
Saturn – Tech-Nick Saturn is back on earth. After a long journey through the solar system the star destroyer of electronics stores finally landed on our beloved blue planet and introduces yes-man Tech-Nick who easily handles clients needs and questions. Cuddly Nick is one of those peculiar lads, often called nerds, whose iq exceeds his weight. And he's got plenty of both. Without wasting a single word he incessantly proves that nodding really matters.