For mom
Grey Birds Print by Judykaufmann on Etsy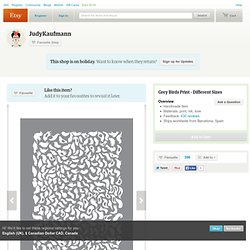 Grey Birds Print - Different Sizes Size options: A4: 8x11.5 inches / 8x10 inches / A3: 11.5x16.5 inches / 11x14 inches / Super A3: 13x19 inches leaving a white border for framing. Printed with pigment inks on Epson Archival Matte Paper (192g) for long lasting images. Hand signed and dated on the front.
when they line up and it really looks like a window to the past, it looks awesome. I can forgive the slightly off angle, and not matching 100%, even a few foliage/reconstruction/fingers in the way marring what would otherwise be a perfect recreation, but there are several included that seem random, like the train station (only the hill angle matches) or "mom at the wooded beach", which needed further proof they were at the same location. the "parents on the couch" shot could have been perfect if the finger wasn't in the way of the what looks like the only bit of architecture that lined up, so it looks like they took a random shot lining up with a couch today. Great project, tho, and I'm tempted to try this with pictures my sister has been posting on Ancestry.com (great-grandmother's house, local VFW, etc).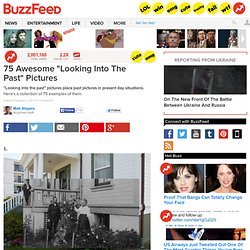 Govino Glasses
Nothing kills the buzz of a drink outdoors more than the chunky rim of a plastic cup at your lips. Refining the concept with a few Dieter Rams-worthy design principles, Govino's reusable wine glasses and champagne flutes, made from BPA-free, shatterproof polymer, keep al fresco sipping safe while upping the overall experience. Reflecting wine's color and aroma more like crystal, the streamlined design not only adds elegance lacking from standard party cups, but a thumb indentation helps prevent them from slipping out of hands easily. Govino glasses, designed to withstand temperatures up to 160°,can be washed and used again instead of tossed out like most alternatives. Each food-safe four-pack sells online for $13.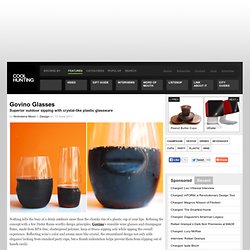 I really like the bright, geometric note cards that Leah Copplestone creates. She uses paper strips and shapes in stylish ways, resulting in an uncluttered, eye-catching collection. Leah also creates home decor, like the frameable, paper cut utensils below, as well as garlands, hanging flowers, pushpins, and magnets. She made this very large fringed flower with beautifully marbled paper from Etsy artist, Ruth Bleakley.
LBC Paper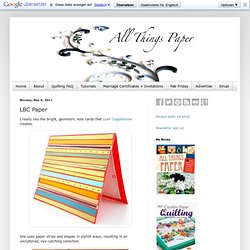 Hof3_RF_FabricPeonyTemplate
I love old photos. I admit being a nosey photographer. As soon as I step into someone else's house, I start sniffing for them. Most of us are fascinated by their retro look but to me, it's imagining how people would feel and look like if they were to reenact them today… Two years ago, I decided to actually do this. So, with my camera, I started inviting people to go back to their future..