Overall Education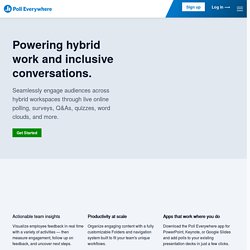 Professional look and feel Poll Everywhere gives you the power to design and customize polls to your own specifications. Match your presentation template, use your organization's logo and color scheme, or let your own imagination run wild. A joy to use From creating your first poll in 30 seconds to importing multiple polls at a time to easily managing sub-users, Poll Everywhere puts the user first and makes it easy to create a rock star presentation. Powerful features
Wordle is a toy for generating "word clouds" from text that you provide. The clouds give greater prominence to words that appear more frequently in the source text. You can tweak your clouds with different fonts, layouts, and color schemes.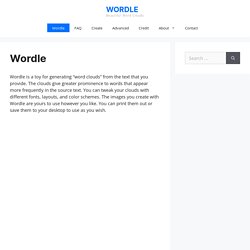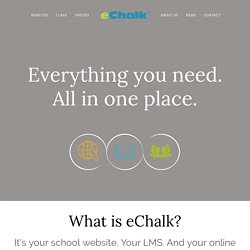 Enable all of your stakeholders to thrive with technology that brings all learning into one place. Only eChalk gives schools and districts the tools they need to: • Build and maintain easy-to-use school websites. • Create, share and use standards-aligned lesson plans. • Organize and manage each student's schoolwork, interests and activities. • Coordinate and promote groups, departments and professional learning communities. • Communicate with parents and the community 24/7, via web, email and safe social networking.
Connect Your School Community. Transform Learning. | eChalk
App List
Editors' Picks Check out our newest extraordinary panoramas, hand-picked by our staff and published by the best photographers in the world every day on 360Cities. Take a look...
swelledtech
Think. Learn. Innovate.